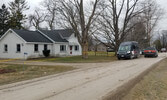 18-year-old Morris-Turnberry man charged two counts of second-degree murder
An 18-year-old Morris-Turnberry resident is facing two second-degree murder charges after police investigated two suspicious deaths near Brussels last week.
Jadin Ducharme has been charged in connection to the deaths of 69-year-old Beverly Stevenson and Darwin Ducharme, age 65, both of Huron East. The accused was also charged with possession of property obtained by crime over $5,000. The charges were laid after Huron County Ontario Provincial Police (OPP) were able to apprehend a family member of the deceased couple on April 1 in connection with their deaths. The OPP were assisted by the OPP Tactics and Rescue Unit, the OPP West Region Emergency Response Team and the OPP Regional Support Team in apprehending the accused.
The charges stem from an investigation that started on March 30 on Graham Road, just south of Brussels. At 4 p.m. that day, OPP attended the property to investigate as two deceased individuals were located, one in the house and one on the property.
At the time, the OPP reported that both deaths were considered suspicious in nature. The OPP also reported that the deaths marked an isolated incident.
The situation is being investigated by the Huron County OPP Crime Unit, as directed by the OPP Criminal Investigation Branch, along with the Office of the Chief Coroner for Ontario. Anyone with information regarding the incident should contact Huron County OPP at 519-482-1677.
Those who wish to provide information anonymously can call Crime Stoppers at 1-800-222-8477 (TIPS) or visit www.hpcrimestoppers.com.