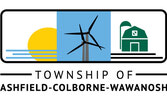 ACW Council narrowly votes to fly Pride flag
BY SCOTT STEPHENSON
Ashfield-Colborne-Wawanosh (ACW) Council narrowly approved a request to fly the Pride flag in June at its most recent meeting. The public forum section of the meeting was contentious, with several citizens taking time out of their days to voice their opinions on why the Pride flag should not be flown, with concepts as wide-ranging as concerns about transsexual toddlers, opposition to an all-male Garden of Eden, and worries about the Pride flag being a gateway flag to other, harder flags.

Councillor Jennifer Miltenberg spoke in favour of the flag, saying "I didn't expect this to be quite as contentious as it was - I listened to the people who said that - I don't agree with several statements - I feel my belief in God is my own," going on to explain that, " I think that if we resist change or a different way of looking at people we'd still be run by a whole bunch of old white men. And we aren't anymore. I'd like to make a motion to raise the flag. That's what inclusivity means."

Councillor Evan Hickey countered that "ACW Township properties are owned by all the residents of ACW. I think it should be kept a neutral property. We all have our own beliefs and religions. We all have our own support groups… when two people come into this office and one of them is offended by something we posted, and the other one is happy, it's not growing a strong township. We have three flags in this room that represent the township." Councillors Wayne Forster and Curtis Blake both concurred with Hickey.

Miltenburg drew comparisons to other acts of historical oppression to make her point known. "It wasn't that long ago, I grew up in Detroit, and people were offended by what Black people did, they still are in many areas. One person being offended because another person is different and wants to celebrate that, it shouldn't be divisive. If it is, then somebody needs to check their privilege at the door. I'm sorry, I disagree with you completely. If we want to keep staff neutral, then that's up to council, but let's not hide it behind those words."

In a recorded vote, council voted in favour of the motion 4-3, with Miltenberg, Deputy-Mayor Bill Vanstone and Councillor Anita Snobelen voting in favour and Blake, Hickey and Forster voting against. Mayor Glen McNeil broke the tie by voting in favour of the Pride flag, and it will be raised in June in ACW.