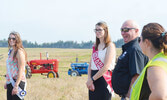 ACW's McNeil acclaimed to second term as Huron County Warden
BY SHAWN LOUGHLIN
On Wednesday afternoon, Ashfield-Colborne-Wawanosh (ACW) Mayor Glen McNeil was acclaimed to a second two-year term as Huron County Warden.

McNeil declared his intention to seek a second term as the county's top politician early last month after he was acclaimed to a second term in ACW as its mayor. He ran unopposed for the position.

First elected as a councillor in ACW in 2014, McNeil was the top vote-getter in the Colborne Ward (before the township abolished the ward system). In 2018, McNeil stepped up to run for mayor after long-time Reeve Ben Van Diepenbeek (the title has been changed from reeve to mayor) did not seek re-election that year.

McNeil was acclaimed to the position in 2018 and was then acclaimed again in 2022.

After being acclaimed to the position of warden, McNeil thanked his fellow councillors, staff and family for their support and confidence in him. He also thanked several past Huron County Wardens who were in attendance, saying they had been an inspiration to him.

He pledged to treat all councillors and staff members with respect and fairness, bringing integrity and humility to the position. McNeil also said that the next two years would be important for the council, which he called forward-thinking and progressive.
McNeil thanked his wife Vanda, their children and grandchildren for their support and patience as he undertook what he called his civic duty. He also thanked the staff at ACW and his newly-elected Deputy-Mayor Bill Vanstone for their support and friendship.

Bill Strong, representing Huron-Bruce MPP Ben Lobb, brought greetings to the meeting, congratulating council and calling McNeil a born leader.