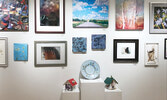 Art Gallery thriving despite loss of Memorial Hall traffic
BY SHAWN LOUGHLIN
Despite having to rely on organic foot traffic, rather than Blyth Festival audience members at Memorial Hall, the Blyth Festival Art Gallery is having a great year.

Blyth Festival General Manager Rachael King first made mention of it at the Blyth Business Improvement Area (BIA) meeting last week, saying the gallery had sold a number of pieces from its season-long community art show, which has been hosted in Memorial Hall over the course of the summer.

Kelly Stevenson, head of the exhibition committee for the gallery, says exhibiting artists have sold nine pieces thus far, with inquiries being made into several more. She said she's really happy with what she's seen so far and the impact the show has had on artists who are showing their work in the gallery this year.

With the Blyth Festival producing plays exclusively on the Harvest Stage this summer, nowhere near Memorial Hall, the committee had hoped for the best with the exhibition and the results have exceeded their expectations.

Stevenson, who is also heading up the gallery's social media exposure for the show, thinks regular posts and daily featured pieces have gone a long way towards generating interest and making art lovers from near and far aware of the quality of the art in the gallery this year.

She said at least a few of the pieces that have been sold have been connected with their buyers directly from social media, which has been a nice surprise.

The value of the sales thus far has been just over $2,300, all of which has gone directly to artists, with the gallery declining to take a commission for this year's sale.

Stevenson said that has been an important aspect of the sale. The past two-and-a-half years have been difficult for artists, but they have still been creating art. She said that some artists have almost ended up with a backlog of pieces and they need somewhere to sell them, which is where the gallery and this year's sale has come in.

While Stevenson has been impressed with the quality and diversity of the art submitted for the sale, she has also been surprised at the different pieces of art that have sold, showing that there is a hunger for all types of art in the Huron County community.

The show is open for visitors during the same hours as the Blyth Festival box office and it's currently set to close on Saturday, Sept. 24.

To see some of the pieces on display, follow the gallery on Facebook or Instagram.