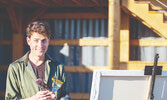 'Assassinating Thomson' needs to be experienced on the Harvest Stage
BY SHAWN LOUGHLIN
Bruce Horak's Assassinating Thomson is unlike any theatre experience I've had before. Secretly, I wondered if this would be the case when we here at The Citizen began writing stories about it and we weren't even 100 per cent sure what to expect.
Reporter Denny Scott and I likened it to Jane Miller's These Are The Songs I Sing When I'm Sad, which was produced in the Blyth Festival's Phillips Studio in 2018. An intimate, interactive performance that was part roundtable discussion and part stunning musical performance, it was difficult to explain that show to people. As cliché as it sounds, you had to be there to experience it firsthand.

Assassinating Thomson is very similar. Being so unique, it's hard to compare it to anything, which then makes it hard to describe to a friend in a relatable way. You just have to urge them to trust you and go see the show.

The show received a welcome boost just days before its run started when it was announced that Horak had been cast to play Hemmer in the new Star Trek: Strange New Worlds, being drafted into one of the most storied science-fiction franchises of all time.

Assassinating Thomson, however, is anything but new. Horak premiered the show on the Fringe Festival circuit nearly 10 years ago and has staged it many times since. It interweaves Horak's life story as a visually-impaired actor and painter with that of trailblazing Canadian painter Tom Thomson, the unofficial eighth member of the famed Group of Seven, all while Horak paints a portrait of the night's audience, live on stage.

At just 18 months old, Horak was diagnosed with retinoblastoma. As a result, he lost one eye and his vision in the other was reduced to just nine per cent. During the show, he invites members of the audience to see the world as he sees it, by covering up one eye and looking with the other through a pinhole, made with the other hand.

Despite this challenge, Horak pursued life as an actor and as an artist. He says his world began opening up when he started painting portraits. This is where the show begins, as Horak welcomes the audience to a portrait sitting. He stands at the ready by his easel and begins telling a story to pass the time. It begins with Thomson, but then expands to include Horak's life. It's funny, heartbreaking and inspiring, all at the same time, while Thomson's story is full of mystery, intrigue and possibilities.
Much has been written about the mysterious circumstances surrounding Thomson's 1917 death. Originally labelled an accident in Algonquin Park's Canoe Lake, which is famed as the inspiration behind many of Thomson's paintings, there are many who think Thomson was murdered.

When he speaks about Thomson, Horak weaves between ardent fan and conspiracy theorist, laying out the facts as he knows them. When Horak speaks about himself, there are tender moments and funny moments that all paint a portrait (pardon the pun) of a man who was born to be an artist, regardless of whether health circumstances worked to prevent it.

Despite his limited vision, Horak is comfortable, casual and clearly at home on stage. This is no doubt in part thanks to the working relationship between Horak and director Ryan Gladstone, who has been at the helm of the production since its 2013 premiere. It's very easy to forget just how limited Horak's vision is as he makes his way around the stage, addressing the audience and tending to his portrait.

Assassinating Thomson is a truly unique show that feels at home on the Blyth Festival's Harvest Stage. It's about as Canadian as theatre gets. It begins with a quick blast of music from The Tragically Hip and what follows includes many references to nature, canoes, arguments that escalate to raised-voice arguments (not necessarily major injury or death) and the country we all love. Watching Horak perform under a starry Huron County sky as crickets chirp and wind rolls through the trees, it feels like the way Assassinating Thomson was meant to be seen.

At the end of each show, Horak will sell the night's painting, via live auction, with the money going to a local charity. For the Blyth Festival shows, the auctions will benefit the Almost Famous Players.

Four shows remain in the Blyth Festival's run of Assassinating Thomson, with productions scheduled for Sept. 24, Sept. 25, Oct. 1 and Oct. 2.