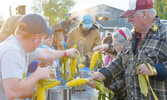 Association plans in-person Thresher Reunion for this fall
BY SHAWN LOUGHLIN
After two years of cancellations and holding truncated events, the Huron Pioneer Thresher and Hobby Association is planning for a full-scale reunion this fall, set for Sept. 9-11.

The organization held a meeting last week to discuss the future and decided to move ahead with the event, announcing its return on Facebook on March 8. President Judy Sloan said people were beginning to call members of the executive, inquiring about the status of this year's reunion and certain planning steps needed to be taken if the event was moving ahead.

She said the membership felt the time was finally right to move forward and host the event again. That feeling has coincided with decisions being made by the provincial government that are leading towards what many are calling a return to normal with the lifting of capacity limits, mask mandates and more.

Sloan said that if the past two years have taught event organizers anything, it's that things can always change and they have to be ready if that's the case. However, she said that many of the association members really were feeling that it had been too long since hosting a reunion.

This September's event will be the 61st annual reunion in the organization's history. Last year marked the 60th anniversary, but because it was a truncated, drive-through affair, the group wasn't able to fully mark the milestone. This year, Sloan said, the membership hopes to maybe have a special guest or two to help celebrate the anniversary they couldn't celebrate last year.

While many details are still left to be confirmed, Sloan said the hope of the membership is to host a reunion with a schedule similar to the traditional event, including the Stoneboat Pullers on Friday night, and other attractions people have come to know and love, like the step dancing and fiddle competitions, the church service, musical performances and more. Some things may be a bit different, she said, but time will tell and the organizers will have to remain flexible as September approaches.

Whether the organization uses the Blyth Festival's new Harvest Stage for the event, Sloan said, has yet to be determined, but when it was created Festival Artistic Director Gil Garratt said he hoped other community groups would be able to use it, naming the association specifically.

For more information, visit the association online or on Facebook and keep watching The Citizen.