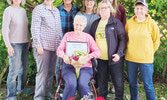 Auburn Horticultural Society honours 'Garden Hero' Andrews
The Year of the Garden 2022 provides the Auburn Horticultural Society with an opportunity to recognize and celebrate the many dedicated and inspiring individuals who, through their leadership, are improving the culture of gardening in their communities.

The gardening community is fortunate to have members who are not just gardening enthusiasts, but people who nurture the community spirit and pass on their knowledge and passion. This program also highlights the valuable work that gardening organizations across the country do in their communities.

The Auburn Horticultural Society would like to congratulate Shirley Andrew's for being named the 2022 Auburn Garden Hero!
Shirley is a long-standing member of the Auburn Horticultural Society, contributing through many years as a member, in the community. For the past 15 years, Shirley has planted and maintained the containers at the Auburn Community Hall.

Shirley is truly a "Garden Hero" and members of the society are delighted to celebrate Shirley Andrews. Shirley's nomination is listed on the Year of the Garden 2022 website, along with nominees from Horticultural Societies, Garden Clubs, and gardening Community, across Canada.

Shirley Andrews, Life Member of Auburn Horticultural Society, was presented with the Garden Hero Certificate on June 20, 2022 by Karen Redmond along with Society members.

If you would like to become involved in the Auburn Horticultural Society, or would like to learn more, contact the society at AuburnHort1950@gmail.com.

The organization's next event will be on Sept. 24, a guided tree tour of Auburn.