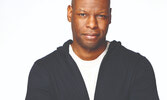 Bailey to adapt the story of long-time Festival patron, preacher
BY SHAWN LOUGHLIN
Peter Bailey, an actor with a longstanding relationship with the Blyth Festival, is now writing a new play, destined for the Festival with a unique connection to the community.

Bailey first performed at the Festival in World Without Shadows, the story of famed Canadian artist Maud Lewis. Coincidentally, that was one of the first Festival shows ever directed by current Artistic Director Gil Garratt. Bailey would return to play roles in two of Sean Dixon's plays at the Festival, The Wilberforce Hotel and, most recently, Jumbo.

He has now turned his attention to writing, as Garratt and the Festival have commissioned him to pen Preacher Sings the Blues, which is an adaptation of the book The Preacher Sings the Blues by Bob Gibson, a long-time Canadian pastor and Festival patron.

Garratt and Bailey connected in regard to the story last fall and Bailey was immediately interested.

Gibson is well-known to many involved with the Festival, including Garratt, who says the United Church pastor has been coming to the Festival for its famed Bonanza Weekend for a number of years. Garratt found that Gibson had released a book about his life, his ministry and his love of blues music in 2018, which is what led to commissioning the play and bringing Bailey on to write it.

Since then, Bailey and Gibson have been working together frequently, with Bailey approaching the process with the zeal of an investigative reporter or a biographer, poring over material provided to him by Gibson and regularly interviewing him or having casual chats virtually in recent months.

Bailey said he had a very Christian upbringing, so he felt connected to Gibson's story almost immediately. However, reading the book, Bailey found it to be almost like a historical record of life in Canada for people of colour (both Gibson and Bailey are Black) years ago and into the modern day.

He also found the inner workings and behind-the-scenes life of a preacher in the church to be fascinating, which was a big draw for Bailey as he read the book.

This will be Bailey's first full production as a playwright, though he says he had been "dabbling" in it as a member of the playwrights' unit at Toronto's Obsidian Theatre Company.

He said he had reservations in taking on the project, with between three and four unfinished plays sitting on his desk, even asking Garratt if he was sure he wanted to trust him to tell Gibson's story, but they had confidence in one another and opted to go ahead.

Bailey says Garratt has been a big part of the development process for him and that bringing him on is a testament to Garratt's skill as a dramaturg. But Bailey said he figured he was at the point in his life that he should try and find his voice as a playwright.
To begin, Bailey read Gibson's book and then reached out to him. The two began having long conversations about Gibson's life as Bailey made notes.

Bailey said he immediately found many parallels to the Biblical story of Job, while also finding that the story of Gibson's faith has heavily intertwined with his love of blues music.

Gibson's story, Bailey said, tells of the racism he faced as a young pastor in the 1970s, growing up in Atlantic Canada, beginning work in rural Saskatchewan and then through to Sault Ste. Marie before making his way to southwestern Ontario and communities like Petrolia.

During the writing process, Bailey says he has been heavily influenced by Angels in America, the Pulitzer Prize-winning play by Tony Kushner, in that he's trying not to limit the telling of Gibson's story to one place, instead trying to be rather fluid when it comes to the style of storytelling. He also says that a prominent court case plays a central role in the story, which has helped him with a foundational through line for the story.

As Bailey has been writing, he and Gibson have remained in touch and Bailey says he's always learning something new to aid in the creation of Preacher Sings the Blues.

Bailey says he hopes the play will evoke a feeling of a true sense of community and what community means. Throughout the COVID-19 pandemic, he said, the bonds of society have been tested, and as theatre returns, he wants to explore that true sense of community.

Since Bailey's last time in Blyth, which was for Jumbo in 2019, he has been busy acting, while also embracing a new role as a voice coach in Stratford.