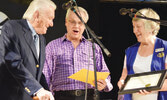 Barn Dance 23: Pioneer, Builder Awards honour best of the best
BY SHAWN LOUGHLIN
Since 1997, The Barn Dance Historical Society and Entertainment Museum has been honouring those who have meant so much to the music amplified by the Barn Dance with Pioneer, Building and Heritage Awards.

The awards have recognized some of the brightest lights in Canadian country music over the years, with even the likes of Gordon Lightfoot and Shania Twain being honoured.

One of the last and most emotional awards handed out was to Canada's Country Gentleman, the legend Tommy Hunter, in Blyth on May 26, 2018. He was in attendance to receive the honour in person on stage, though he would not perform that night.

In 2016, the society introduced the Heritage Awards, which were meant to honour people keeping the "heritage of traditional country music alive". Six people have won the award, which was handed out in 2016, 2017 and 2018.

The Pioneer Award winners and the location of their award presentation are as follows:
1997: Reg Bitton, Listowel; Ross Mann, Lucknow; Ward Allen, St. Clements; Don Robertson, Brussels; "Cactus Mac" Albert MacDonald, Blyth; Clarke Johnston, Blyth, and Al Cherny, Stratford.
1998: Mel Lavigne, Palmerston; Archie Mann, Monkton; Bill Mankiss, St. Clements; George Jordan, Durham; Jack Kingston, Stratford, and W.T. (Doc) Cruickshank, Howick Centre.
1999: Cora Robertson, Blyth, and Earl Heywood, Dashwood at the International Plowing Match.
2000: Roy Thompson, Kitchener; Lloyd Bank, Kitchener; Johnny Brent, Blyth; Ernie King, Blyth; "Sister Suzy" Susan Chambers, Carlisle; Les and Jean Dowell (Colorado Kids), Carlisle; Lynn Russwurm, St. Clements; Larry, Ray and Lloyd Mercey, St. Clements; Clare Adlam, Tara; Verna Adlam (Birch), Tara; Hugh Elder, Tara; Hank Bedard, Forest; Nettie Bedard, Forest; Mary Elliott, Forest; Led "Jed" Reynolds, Milton; Elmer Poyton, Milton; Gordon Davidson, Wingham, and Martha Heywood, Wingham.
2001: Arthur's Radio Orchestra, Wingham; The Gully Jumpers, Wingham; The Puddle Jumpers, Wingham; Jean Tiffen and Irene Steep, Wingham; Laura Hayden, Wingham; Pauline Swanson, Blyth; Sarah Cruickshank, Blyth; Ivadell Sparkes, Blyth; Shirley Pearson, Blyth; Victor Pasowisty, Wingham; Franny Kenny, Wingham; Walter Rehberg, Wingham; Leonard Love, Wingham, and Howard "Smoky" Weber, Wingham.
2002: Ron Coulthard, Blyth; Jim Swan, Blyth; The Sewers Family, Wingham; The Cleghorn Boys, Wingham; Jack Reavie, Wingham; The Seiler Twins (Rusty and Dusty), Woodstock; Jo Brennan, Woodstock; Bert Jackson Orchestra, Blyth; Hank MacDonald, Blyth; Scott Pawson, Mitchell; Jimmie Adams, Mitchell; the cast of Barn Dance Live!, Mitchell; Evelyn Harrison, Mount Forest; Gerald Davidson, Wingham; Wayne Riehl, Wingham; Joseph Tiffin, Wingham; John Day, Wingham; Donn Reynolds, Orangeville, and Don Steele, Orangeville.
2003: Fred Funk, Shakespeare; Harold "Hap" Swatridge, Shakespeare; Huron Ramblers, Blyth; Lloyd Warwick, Blyth; Betty Kitchen, Blyth; Tressa Brewer, Blyth; Grant Heywood, Wellesley; Patricia Heywood Cook, Wellesley; Michael Slauenwhite, Wellesley; The Howard Sisters, Grand Bend; The Royal Canadian Legion Wingham Branch, Wingham; Music Makin' Moms, Wiarton; Alfie Fromager, Wiarton; The Golden Prairie Cowboys, Wingham; Steve Piticco, Wingham, and Don Reed, Wingham.
2004: Bill Simmermaker, Wingham; Sharon Strong Murray, Stratford; The Storey Family, Blyth; Jim Patterson, Wiarton; Bruce Robertson, Wingham, and Joanie Riehl Pletch, Wingham.
2005: Doug Dietrich, Blyth; The Otterbein Family, Blyth, and Paul Weber, Wingham.
2006: Doug McNall, Blyth; Paul Brothers and Shirley, Kirkton; Helen Barker, Kirkton, and Roy McCreight, Kirkton.
2007: Ernie Karges, Blyth; June and Marie Karges, Blyth, and Brenda Allen, Meaford.
2008: Kidd Baker, Blyth; Linda Elder, Stratford; Ruth Baxter, Palmerston, and Gord Baxter, Palmerston.
2009: Joe Overholt, Hensall.
2010: Al Widmeyer, Blyth; Tom Wade, Blyth; Gerald Smith, Hensall, and John and Geneva Heaman, Kirkton.
2011: Marie Bottrell, Purple Hill; Terry Sumsion, Purple Hill; Gordie Tapp, Maryhill; Jimmy Phair, Blyth, and Walter Ostanek, Blyth.
2012: Stan Taylor, Elmira; Wayne Greve, Blyth; Scott Taylor, Blyth, and George Hamilton IV, Blyth.
2013: Johnny Burke, Maryhill; Jack London, Purple Hill, and Lance Russwurm, Blyth.
2014: Randy Satchell, Brussels; Crippled Duck (Harry and Debbie Busby), Blyth, and Dave and Marie Wallace, Wingham.
2015: Earl Fries, Maryhill, and Carl Kees, Maryhill.
2016: The Country Cousins, Blyth, and Bill Norris, Blyth.
2017: Gordon Lightfoot, Blyth, and Shania Twain, Blyth.
2018: Randy Owen, Purple Hill; Tommy Hunter, Blyth, and Joe Firth, Maryhill.

Over the years, the society has handed out 15 Builder Awards to those who have given so much of their time to keep Canada's largest travelling Barn Dance alive.

The winners are: John Hodges, 2000, Kitchener; Ross Calder, 2000, Milton; Paul Thompson, 2002, Mitchell; Carl Kuhn, 2002, Mount Forest; Sheila Rintoul, 2003, Wingham; Paul Rintoul, 2003, Wingham; Steve Fruitman, 2007, Blyth; Wayne Otterbein, 2007, Blyth; June Therrien, 2007, Blyth; Harvey and Dianne Kuntz, 2007, Blyth; Lloyd and Helen Otterbein, 2007, Blyth; Gerry Boppre, 2007, Blyth; Stan Young, 2007, Blyth; Bill Simmermaker, 2007, Blyth, and the Commercial Tavern, 2017, Maryhill.

The six Heritage Awards have been given to Naomi Bristow, 2016, Purple Hill; Al Alderson, 2016, Shedden; Fred Lewis, 2016, Shedden; Crystal Gage, 2017, Glencoe; Linsey Beckett, 2017, Hepworth, and Kiley Jo Masson, 2018, Blyth.