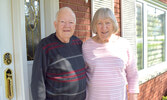 Barn Dance 23: The Baxters reflect on decades of the Barn Dance in Blyth
BY SCOTT STEPHENSON
Country music lovers all over Huron County are gearing up for the return of the annual Barn Dance Jamboree/Campout in Blyth, to be held at the Blyth and District Community Centre and Campground from May 26 to May 28. This will be the event's 25th anniversary and will be the last of its kind.

The Citizen sat down with event organizers and long-time members of The Barn Dance Historical Society, Ruth and Gord Baxter in their Wingham home to learn a little bit of Jamboree history, and seating that day was sparse at the Baxter house - the back of the couch was temporarily festooned with crepe paper rosettes soon to adorn the Jamboree stage, and most surfaces were covered with all the decorations, paperwork and donations necessary to put on a successful Jamboree. "The merchants of Blyth are really responding this year," remarked Gord.

Both Baxters had been to Canada's Largest Travelling Barn Dance shows during the show's heyday in the 1960s, and had the opportunity to hear many great local musicians at concerts emceed by Kitchener's Johnny Brent, who was known as "The Voice of the Barn Dance". "That was the music of our era," said Gord.

So how did the Baxters go from being fans of the original Barn Dance to being the stewards of the Jamboree? "Actually, Earl Heywood got me involved. In the year 2000, Earl approached me and asked me to get involved with the Barn Dance Historical Society… little did I know how involved I would get!" said Gord.

A long-time financial manager at the Wingham and District Hospital, Gord's skills in money management quickly became essential to the society and its annual Jamboree. Once Heywood had Gord locked in, it was only a matter of time before Ruth became a part of the goings-on. "Gord was already going to the meetings, so I thought, what am I doing just sitting at home?"
Thus began over two decades acting as integral members of the Barn Dance Historical Society and organizers of the Jamboree, an era that is now coming to an end. "We're putting it on as best we can," remarked Ruth. "It takes a tremendous amount of work on our part," added Gord.

Putting on the Jamboree takes a wide-ranging community effort - one volunteer is even coming all the way from Manitoulin Island to help set up chairs. "It's inspiring - you can't buy that kind of friendship," said Gord. "It costs a lot of money to put a trailer on the Chi-Cheemaun!"

The dedicated pair started mailing out invitations in January, and are hoping for a strong turnout this year - the last Jamboree with Ruth and Gord Baxter at the helm. The two are ready to enjoy a well-deserved retirement. This year's event will feature a Friday night dance, a Barn Dance showcase on Saturday featuring Larry Mercey, Naomi Bristow, Paul Weber and more, as well as a Sunday morning Gospel Show. "We're looking at this year's celebration as a reunion, not just an event," said Ruth.
Municipal machinations caused some confusion earlier this year - the proposed closure of the Blyth and District Community Centre from April to September left the Barn Dance Historical Society unsure as to whether this year's Jamboree was even going to happen.

The Baxters were understandably upset when the Barn Dance Museum was unceremoniously closed a few years ago, after having dedicated so many years and so much energy to preserving this essential part of local history. Gord said, "It's so sad for the municipality… we had artifacts from The Tommy Hunter Show, from Larry Mercey, from Al Cherny… then we were basically locked out. We have a history here in this town that deserves to be preserved… to me, they blew it for tourism. I can't understand the thoughts of the town fathers."