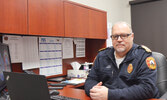 Bedard retires as three-municipality fire chief after nearly 40 years
BY DENNY SCOTT
After nearly 40 years working for local municipalities and nearly 30 years as a firefighter, North Huron, Morris-Turnberry and Huron East Fire Chief Marty Bedard is retiring.

Bedard started with the Town of Seaforth in 1985, signing on as Recreation Director, a position he held until 2001 when the job changed as a result of amalgamation.

"After that, I worked at the arena and was more of an arena attendant for two years," he said in a recent interview with The Citizen.

In 2003, Bedard, who had started with the Seaforth Fire Department late in 1993, became Huron East Fire Chief in 2003, a position he has held until now.

"So, it's been almost 20 years," he said. "Nineteen-and-a half years as chief, 29-and-a-half years as a firefighter and 37 years with local municipalities."

Bedard became the fire chief for North Huron in 2018 through a shared services agreement and, a year earlier, had become chief for Morris-Turnberry as Morris-Turnberry Council bought partial ownership of the Brussels division of the Huron East Fire Department.

Bedard said he had planned on retiring a little later, but with so many changes coming for fire departments, he felt it might be better to move on. He cited mandatory certification requirements for firefighters being implemented soon, as well as a risk assessment that needs to be done.

While he says the Fire Department of North Huron is settled, the Huron East Fire Department still has some work that needs to be done, and he will be leaving that to his successor.

Earlier this year, for example, there were a number of suggested changes from Huron East senior staff for the Huron East department, including amalgamation of the Brussels and Grey halls.

He said with all the changes possible, it made sense for a new chief to be in play now instead of handing over the reins in the middle of big transitions.

While Bedard wasn't directly involved with choosing his successor, he was interviewed by one of the parties involved with finding his replacement. He said that Kent Readman is a great fit for the two fire departments since he is local, the one qualification Bedard felt was important.

Bedard said that Readman, who was previously part of the Fire Department of North Huron, will provide good leadership through the changes.

"My feeling was if it was somebody local, that would be better and Kent is a local person," he said.

Bedard has no big plans for retirement just yet, saying his wife does still work, but he plans on relaxing and taking it easy for the foreseeable future.