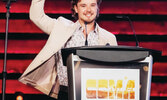 Belgrave native claims Canadian Country Music Award
BY DENNY SCOTT
Belgrave native Austin Chaffe won a Canadian Country Music Association (CCMA) Award over the weekend for his work with several different Canadian country groups and artists.

Chaffe, who now lives in Guelph, won the Creative Director of the Year Award for his work in managing brands, albums and singles for a number of big names in Canadian country music, including Dean Brody, The Reklaws and Jade Eagleson. The award, he said, was for his individual work, but it represented the work through Starseed Entertainment, an Ontario-based music label and all the efforts that make them successful.

Chaffe, now a Creative Director at Starseed, said it felt "amazing" to win the award.
"It represented a lot of sleepless nights working," he said. "I looked back and, just this summer, I had been on 25 flights going to different festivals and different shoots. There was a lot of different work behind that and it feels pretty good to be recognized for that."

Chaffe, alongside the artists and other Starseed employees, were at the gala event in Calgary on Saturday night when some of the CCMA awards that aren't broadcast were presented.
"It was a lot of fun and pretty exciting," he said.

He thought he had a chance to win, but wasn't 100 per cent sure, so when he did get the win, he was filled with pride.
Looking back on his career, Chaffe said it all started at the International Plowing Match (IPM) in Walton in 2017.

"I met Eric Ethridge, who was opening for George Canyon," he said. "I asked to shoot a video at his show and he said sure."
Chaffe sent the video to Ethridge, who was impressed, and asked him to continue to shoot his shows, leading to Chaffe traveling all over to shoot shows on the weekend while working at Blyth Cowbell Brewing Company during the week.

"One of Ethridge's guitarists called me and told me The Reklaws needed a shooter," he said. "I said 'hell, yes', and went to Kitchener and shot the show."

He said one thing led to another and soon he was shooting for The Reklaws and other bands represented, at that time, by Universal Music, including The James Barker Band. After that, many of those bands started working with Starseed Entertainment, and he joined as a creative director, then started working for all the acts.
The journey was a crazy one, he said.

While he's always been a country fan, attending Lucknow's Music in the Fields events and listening to the music his whole life, it wasn't until a James Barker Band concert when he began considering it as a potential career path. At the time, he was studying television broadcasting at Mohawk College. He met the videographer for the band at the show, and got talking shop with him, and realized that it was something he could pursue.

After graduating, Chaffe worked in television for a bit, but decided it wasn't for him, which led to that fateful interaction with Ethridge at the IPM.

Going forward, Chaffe says, Starseed has a number of new artists and he is working on mini documentaries for them to help introduce the artists to the the industry, including music professionals in Nashville. Some of the current artists also have albums on the way, which means album designs and photo shoots, as well as working with different music services to get the songs streaming.