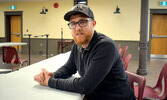 BF23: Production Manager Ryan Brink is ready for his first full season
BY SCOTT STEPHENSON
Whitechurch's own Ryan Brink has worked for theatres and festivals from Stratford to Kitchener, but, for the foreseeable future, North Huron can count itself lucky to have him as Production Manager for the Blyth Festival.

Brink's job is a combination of technical acumen, organization and scheduling. "I oversee all of the technical aspects of all of the productions - sound, lighting, carpentry, paint, costumes. I oversee that entire department, making the schedules and handling the budget and things like that."

At this point in the production schedule, things are really ramping up. "On an average day, I run around like crazy! Typically I have meetings with different designers and different departments, and I get new crew members up to speed if they need it. I've got a really good team, which is so helpful - it's crunch time right now," he said in late May.

Brink came by his unique set of skills in a piecemeal fashion. "At first, I really wanted to focus on the sound and audio world. I would do the sound in church for bands and things like that. I ended up going to school in Windsor for sound, and then when I graduated if you threw a rock in any direction, you'd hit a sound guy, so I ended up becoming more of a lighting technician, and then a wide range of stuff just came from there. My career has sort of just evolved as opportunities have become available."
Having been raised in Whitechurch, Brink was always aware of the Blyth Festival, but first thought he would have to travel far afield to pursue his various technical passions. "Growing up around here, things like theatre can feel like a different world, so you don't have a lot of access, but if you just get involved in high school or community theatre, you can see where it goes."

Brink returned to the area in 2019, as did a number of other key players this Festival season. How have things been going so far for Blyth's main man-behind-the-scenes? "It's been super weird," he laughed. "We started with the Christmas show, A Huron County Christmas Carol, right away, and that all went fine. Then we were really ramping up for a pretty big 2020 season, and I was trying to figure out the ropes and how the Festival runs, and then we just shut down. So that's sort of how I came to be here. My wife and I also had a baby on Feb. 28, 2020, so we had a one-month-old while we were cancelling the season, which was also super weird."

Planning plays post-pandemic has presented its own set of difficulties. "Finding staff has been a challenge this year. There's just fewer people out there - I think a lot of people have left the industry, and fewer people went into school to study live entertainment and production in the middle of a pandemic that doesn't allow you to meet in large groups. In the past for a position you would get maybe 20 résumés, now it's like four to seven. Luckily, Blyth Festival has a good reputation, so it's not too hard to get people to come work here, provided that there are people available to work."

Beyond staffing issues, Brink also has to find work-arounds for the lack of theatrical supply stores in and around Blyth. "There are certain challenges in being in a rural setting in terms of supplies - we buy a lot of stuff out of London. In terms of just running out to buy gear, it's a bit more limited." As with many of the problems Brink likes to solve, the lack of gear proximity can be managed with more planning. "I'm always trying to look ahead and remove any obstacles that might come up - anything that makes it easier for everybody else."

When he's not thinking about how every tiny detail has to fit together with perfect precision, Brink is excited about the individual productions being staged this year. "Liars at a Funeral is so funny, and I think The Donnellys: A Trilogy will be a real spectacle. There's really good music in it, and working with the Harvest Stage has been really interesting. We are going to use the outdoor stage in some unique ways that you just can't do inside."