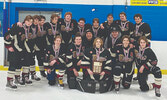 Blyth Brussels U18 LL Crusaders tops in WOAA
BY DENNY SCOTT
After facing a few obstacles earlier in the season, the U18 Local League Blyth Brussels Crusaders came together to win their year-end championship series against the Walkerton Capitals in the U18 Western Ontario Athletic Association (WOAA) White Final.

The team finished the season with a record of four wins and seven losses, putting them in the bottom half of the WOAA U18 southern division, but coach John Groves says the team pulled out all the stops in the postseason to claim the championship.
In the round-robin tournament, the Crusaders posted four wins, one tie and one loss, earning nine points, putting them ahead of the Listowel Cyclones' four wins and two losses, which netted them 8 points. The Crusaders also scored 28 goals for and had 20 against for a division-high goals-for rating of 58.3 per cent.

The playoffs started in early February with the Crusaders posting a 5-3 win over the Listowel Cyclones. Next, on Feb.14, the Crusaders downed the Huron-Bruce Blizzard by a score of 7-4. The Crusaders' first loss came at the hands of the Cyclones on Feb. 26 when Listowel doubled them 4-2. The Crusaders then tied the BCH Ice Dogs Blue team 4-4 on Feb. 28 before starting a four-game winning streak that would lead them to the championship. First, the Crusaders downed the BCH Ice Dogs Blue team 5-3, then the Blizzard 5-2. The Crusaders then won back-to-back games against the Walkerton Capitals on March 24 and 28, claiming a 3-2 win first then a 2-1 overtime win for the championship

"It was pretty exciting," Groves said. "The way the season started, we didn't know where we'd end up, but we pulled together at the right time. It was a pretty good feeling."

He said the few times the team missed putting a game in the win column in the postseason didn't set them back, as the squad bounced back quickly to secure their berth in the championship.

As for the regular season, he said the team had a lot of fun together, but they took some time figuring out how to play together in the way that would carry them through the postseason.

Groves said a lot of the players knew each other going into the season, but there were several new players including three from different centres. While there are always concerns with players coming from different areas, he said the local players worked together to make them feel welcome.
"I was pretty happy with that," he said.

While the team's win is a good finish to the season, he said that many of the players may not be returning next year, so it may be a whole new team striving for the finals in 2022/2023.

For more information on the season, visit woaa.on.ca.