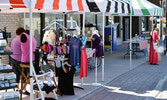 Blyth Community Market eyes July 1 opening date
BY DENNY SCOTT
The organizers behind the Blyth Community Market have their eyes set on a July 1 opening, according to market co-ordinator Reece Sparling.

In an interview with The Citizen, Sparling said the market's organizers are currently working with Huron Perth Public Health to meet the requirements necessary to open and find locations on Blyth's main street to set up the vendors.

The market will run through Aug. 26, every Thursday, from 10 a.m. to 2 p.m, with the online market still being offered.

Sparling said the online market and in-person market will offer different options from vendors who participate in both, as well as different vendors altogether.

"There will be art vendors at the in-person market, and fresh produce and hot food," he said, adding a wagyu beef vendor from the Londesborough area will be participating.

The online market's pick-up location will be changing, he said, to a central booth in the market that he will be operating.

Thus far, about half the vendors from last year have confirmed, Sparling said, meaning there will be at least those seven vendors when the market starts this year. He said new vendors are welcome to contact him at blythoutdoormarket@gmail.com to sign on.

For more information visit the Blyth Community Market on Facebook.