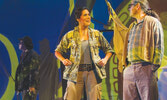 Blyth Festival land acknowledgment was a collaborative work
BY DENNY SCOTT
As the country recognizes National Truth and Reconciliation Day, The Citizen turned to Blyth Festival Artistic Director Gil Garratt, who has worked closely with First Nations representatives since becoming the Festival's Artistic Director, to talk about the importance of remembering the original stewards of the land.

In 2017, Blyth Festival Artistic Director Gil Garratt started reciting what has become a well-known statement before shows honouring the original stewards of the land that the Festival sits on, marking the creation of one of the first local land acknowledgements. He first said it to the artists working on Ipperwash. It wasn't long, however, before he and other Festival staff were saying it in front of audiences for Ipperwash and each play that followed.

"We first talked about the land acknowledgement in 2015, when we started conversations about creating Ipperwash," he said. "That was the catalyst for creating it."

Garratt reached out to Saugeen First Nations Chief Lester Anoquot to ask how he should proceed, only to find out he was talking to the wrong nation.

"I wrote him and told him what we wanted to do and asked how we could arrive at a land acknowledgement," he said. "I asked him for guidance, but I got a very nicely-worded response that Blyth wasn't actually in the traditional territory of the Saugeen people."

Anoquot told Garratt that the border, for lack of a better term, for the Saugeen First Nation was actually just north of Blyth, and directed him to speak to the Kettle and Stony Point First Nation.

After thanking Anoquot, Garratt got in touch with Lorraine George, the First Nation Manager for Kettle and Stony Point, whom he had been in contact with thanks to working with that community on the creation of Ipperwash. George has since passed.
Garratt showed up to meet with George to talk through the acknowledgement, carrying a bundle of tobacco to thank her, and left the meeting with the acknowledgement. He said the statement is important because every word is considered and because, while many people may not be aware of it, the treaties are legal documents.

"These are contractual agreements," Garratt said. "The treaties are still enforceable. This isn't a game of 'woke' politics, but it's history and we have to honour it."

Treaty 29 calls on those in the lands to look after one another, Garratt said, and he feels there is a long way to go before that requirement is met.

He also said that one of the artists involved with Ipperwash felt the practice of creating the acknowledgement shouldn't be a one-time deal, and that, if and when Garratt leaves, the next artistic director should go through the same practice to make sure the importance of Treaty 29 isn't forgotten by Garratt's successors.

While First Nations plays have become a bigger part of the Blyth Festival's productions over the under Garratt's direction, with shows like Ipperwash and Cottagers and Indians, Garratt says it's not a new theme, as even Mostly in Clover, the first Canadian play tackled by the Blyth Festival back in 1975, before the Festival established its Canadian theatre mandate, included interactions between descendants of settlers and First Nations people.

"At the time, it wasn't likely an Indigenous actor portraying the character, however it was obviously a concern of which [playwright] Harry J. Boyle was aware. "It's part of where we started and where we're going," Garratt said.