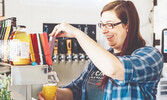 Blyth native Bonnie Nethery named to hospitality 30 under 30
BY SHAWN LOUGHLIN
Blyth native Bonnie Nethery has been named one of Kostuch Media Limited's 30 under 30 for 2021 for Canada's hospitality industry for her work with Kitchener's Descendants Beer and Beverage Company.

Nethery served as the craft brewery's general manager until earlier this year, when she took a job as the front-of-house manager at Merridale Cidery and Distillery in Cobble Hill, British Columbia, which is on Vancouver Island.

After graduating with a Bachelor of Commerce degree in Hotel and Food Administration from the University of Guelph's School of Hospitality in 2017, Nethery began working with Descendants. She was hired in its marketing department, working her way up as its events manager and assistant manager before becoming the general manager.

While working at the Grand View restaurant in Blyth as a server, Nethery told her parents that was what she wanted to do with her life. Her parents, Larry and Cathy, who still live in the village, insisted that she attend post-secondary education and earn herself an education, which is what led her to the hospitality industry to learn more about the business side of things.

Nethery is the only person on the list from a small, independent craft brewery, which she says is a rarity. In recent years, she remembers seeing mostly people from large restaurant and hotel chains, maybe a large winery or two, but not small craft breweries.

When she found out she was being honoured in this way, Nethery said she felt good about it. She says she just felt like she was doing her job, but when she read some of the nomination letters from those who she'd worked with, she learned more about the impact she was having on those around her.

"Under Bonnie's management, the staff have felt seen, heard and appreciated. Team members had a new level of autonomy that they never had before as Bonnie created space for them to take risks and try out new ideas," wrote Descendants' co-owner Lee Brooks in a letter of recommendation. "Bonnie added value with a newly-revamped website and a user-friendly, easily managed online store. Descendants has benefitted from having her analytical mind and 'we're not reinventing the wheel' philosophy at the helm."

Brooks also stated that, despite moving on to British Columbia, Nethery will still reach out to Descendants with "ideas and options" to aid the company moving forward.

Mike von Massow, an associate professor at the University of Guelph and the chair of food systems leadership with the Ontario Agricultural College, called Nethery an outstanding candidate, adding that he was honoured to have nominated her for the award.

"While she has a strong foundation and has already demonstrated her leadership and ability in the workforce, I think it is also critical to recognize her commitment to improvement and development. She has taken a range of roles to challenge herself and build a range of experience to grow in the area of food and beverage," von Massow said in his letter. "She has worked in her own time to achieve the Level 3 Beer Sommelier certification from Prud'Homme. She took on marketing and social media roles to further develop those skills."

Katy Topham, who served as the outside events, sales and bar supervisor at Descendants from 2017 to 2020, said Nethery very much served as a mentor to her both in and out of the workplace.

"While we will miss her here in Ontario, her new team is so lucky to have her as their manager. They will get to experience firsthand someone who not only wants her team to succeed, but wants to help them get there," Topham wrote. "In a few short years since finishing school, Bonnie has created a mark on the hospitality industry, and I know her leadership and eagerness to learn will result in her success."

Nethery said she has had her eye on moving to British Columbia for a while after visiting several times years ago. After every visit, she said in an interview with The Citizen, it got harder and harder to leave.

She said Merridale offered her new challenges after she felt she had accomplished everything she could at Descendants, and while it was hard to leave, she's excited for the next chapter of her career, complete with new challenges.

Bruce McAdams, an associate professor at the University of Guelph, developed the Top 30 Under 30 Awards, which launched in 2006 by the Ontario Hostelry Institute under the guidance of J. Charles Grieco. When Grieco passed away in 2019, Kostuch Media Limited, which publishes Foodservice and Hospitality and Hotelier magazines, assumed control of the program.

For a complete list of the winners, visit hoteliermagazine.com.