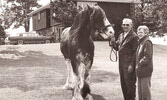 Blyth's Aubrey Toll posthumously inducted into Clydesdale Hall of Fame
BY SHAWN LOUGHLIN
The late Aubrey Toll of Blyth, who passed away in 2005, has been posthumously inducted into the Clydesdale Horse Association of Canada Hall of Fame as part of the class of 2022. Aubrey was widely known in North America and Scotland as a breeder, importer and exporter of Registered Clydesdales.

Toll is joined by three other inductees: Allan Gordeyko, Lloyd Langille and Frederick Wesley Dunn.

Below is a submission written by Vaughn Toll, Aubrey's son, for Canadian Clydesdale Contact 2023.
BY VAUGHN TOLL
Submitted for the Clydesdale Horse Association of Canada 2022 Hall of Fame class

"Aubrey Toll (1920-2005) was born into a farming family near Blyth, Ontario on March 19, 1920. He married Marie MacCrostie (1920-2015), an elementary teacher, in 1944. They raised four children on the family farm: Cheryl, Vaughn, Kerry and Avon.
"Aubrey was a fourth generation Clydesdale breeder and showed his first horse, a foal at the Blyth Fall Fair at the age of seven. By the mid-1950s he was showing his own 6-horse hitch at local shows. He and his father, Fred, took horses to the 1956 Royal Winter Show in Toronto. In the years that followed, he trucked many horses to the Royal, won many prizes and made valuable connections with Clyde owners from all over Canada, the U.S. and Scotland.

"He imported his first Scottish horses in 1961 and from then until the early 70s, he imported more than 60 horses from Scotland. Among his many imports were the stallions, Torrs Benefactor, Dunsyre Silver King, Doura Ambassador and Collessie Royal Gift.

"In 1960, Aubrey trucked horses to the Brandon Winter Fair in Manitoba for the first time. For several years, this was an annual trip resulting in successful outcomes. Beginning in 1961, he participated for four successive summers in the Western "A" Circuit at Brandon, Calgary, Edmonton, Saskatoon and Regina exhibitions, travelling with his family, two trucks, a wagon and up to 14 horses. During the 1960s, he attended up to 50 fairs each year.

"In 1962 he sold four of his Clydes to August A. Busch, company chairman of Anheuser-Busch Brewery. This exchange was the first of many horse deals between the two men. Aubrey estimated that Mr. Busch purchased over 70 Clydes from him over the years.

"Aubrey judged horses at some local fairs as well as the Calgary Stampede, Brandon Winter Fair, Halifax Exhibition, the National Clyde Show at Waterloo, Iowa and the stallion classes at the Royal Highland Show in Scotland.

"In 1986, he was contacted by Ted Nugent's farm manager at Timberwood Farms in Michigan. All of the Clydes at the farm were for sale. When the deal was completed, Aubrey had purchased 17 of the horses. In this group were Greendykes Golden Arrow, Doura Marquis and several Collessie-bred mares. The best horse was Maplewood Glen Rose which he sold to David and Wilma Cleghorn of Guelph; she was David's favourite and best producing mare.

"He trucked his horses in a simple stock truck; always shod his own horses; taught many the art of tying tails and rolling manes and drove his own hitches.

"His wife, Marie, was his mainstay over the years by keeping things going at home while he was on the road. She made hundreds of crepe paper mane flowers, washed yards of white, cheesecloth mane rolls and organized the many pictures and articles that preserved the stories of Aubrey's many adventures.

"He was meticulous about how his horses were prepared and presented for show. He was adamant that their feet and legs were washed with warm water. At the end of the day, he liked nothing better than to sit on the tack box in the horse barn while negotiating a deal with a fellow Clyde owner,

"Aubrey died on July 21, 2005 at 85, leaving a rich legacy of love, loyalty and knowledge of the Clydesdale breed which he generously imparted to many including the fifth and sixth generations of Clyde breeders among his descendants on the home farm. He would be proud to know that his son and grandsons are continuing the family tradition of breeding and exhibiting his beloved Clydes.

"There have been many dedicated horsemen over the years who kept the horse business going when there wasn't much reason to do so…. Aubrey was one of them.

The Clydesdale Horse Association of Canada Hall of Fame Committee was founded in 2020. According to the association's website, the committee was established "to recognize those Canadian Clydesdale breeders whose decision making and hard work have developed the Canadian Clydesdale into a highly esteemed and internationally coveted breed."

The association itself was founded in 1886, over 135 years ago. The first Hall of Fame class was inducted in 2020, consisting of Alfred Edwin "Eddie" Arnold of Manitoba, Wreford Hewson of Ontario, Dale Rosenke of Alberta and Thomas Daniel of Nova Scotia. The 2021 class included Doug Charles of Saskatchewan, John "Junior" Heatlie of Quebec, Dennis Gordeyko of Alberta and Lawrence McIntyre Rye of Alberta.

Toll was the only person from Ontario in the 2022 class (Allan Gordeyko is from Alberta, Lloyd Langille was from Nova Scotia and Frederick Wesley Dunn was from Manitoba) and just the second Ontarian ever to be inducted into the Hall of Fame.
For more information on the three classes of inductees, visit canadianclydesdales.ca.