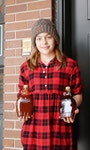 Blyth's Leah Boven raises $1,300 for local food banks
BY SHAWN LOUGHLIN
Eleven-year-old Leah Boven of Blyth will soon be donating over $1,300 to local food banks as a result of a very successful fundraiser she undertook in the weeks leading up to Christmas.
Boven mulled a few options in the weeks leading up to Christmas, including a "light-up" similar to the one organized in Goderich, but eventually arrived at a sales fundraiser to raise money for the food banks.
She sold Hanna's maple syrup and barbecue sauce to family friends and community members, setting a goal of $500 to be donated. However, the project proved so successful that she blew past her goal in no time and eventually raised over $1,300 in just two weeks, running from Dec. 3-17.
Not only was she able to raise that money, but she did it by helping out a local business in Hanna's.
Boven said there would have been no way for her to raise this kind of money if it hadn't been for her parents helping her get the ball rolling and for the generosity of the community. If they weren't willing to buy the maple syrup and barbecue sauce from her, then the fundraiser wouldn't have gotten very far. Boven said she wanted to thank the community for supporting her efforts.
In deciding to raise money for local food banks, Boven said part of the reason was because of the evident need in the community. From March to September, she said, local food bank usage had increased by 26 per cent.
She also wanted to work to raise money, but keep the fundraiser at a reasonable size so as to not undercut local small businesses either at a time when so many of them are struggling due to the COVID-19 pandemic.