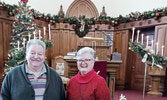 Blyth's Margaret and Rick McInroy give back over the holidays
BY SHAWN LOUGHLIN
For Rick and Margaret McInroy, at this point in their lives, the holidays are all about giving back to their community.

The Blyth residents spent much of their lives in the Walton area, and are really connected to both Walton and Brussels, the latter through Melville Presbyterian Church and other community volunteerism.

This year, Margaret was named the Brussels Citizen of the Year for her work in the community through the church and the Walton Women's Institute, among other ventures. Although she and Rick now live in Blyth, Margaret's years of work in Brussels and Walton, much of which continues today, have made her a staple in those communities and someone who can be relied upon to lend a hand when it's needed.

Margaret says that, because she and Rick never had children, their holiday traditions developed more around community and extended family.

She grew up on a farm just outside of Walton and eventually married Rick, who came to Huron County by way of Marmora, which is equidistant between Toronto and Ottawa on Highway 7, in the late 1980s when he was working with Ontario Hydro.
As a child, Margaret said there was always a lot of family getting together around the holidays. She remembers being gifted a doll at Christmas each year, or perhaps some clothes. One of her aunts was always great about buying Margaret books every Christmas, which is something that has stuck with her over the years.

She remembers always having duck for Christmas dinner in her younger years, as well as some Christmas pudding, which she says has fallen out of favour with some of the younger generations, but still has plenty of fans.

When Rick was a child, he said Christmas dinners would be rather adventurous affairs, with a father who liked to hunt, fish and trap, so the fare for Christmas dinner could change pretty drastically from year to year, depending on what had been harvested that year. He remembers liking all of those meals and his childhood holidays.

Rick says he was often spoiled around Christmas. He was the youngest of three boys and his brothers were five and seven years older than he, so he says he definitely reaped the benefits of being the baby of the family.

Christmas Day in Rick's house was always about staying home. His dad was strict about that, Rick said, Christmas was for family at home. That has persisted, Rick said, so when he married Margaret and the pair lived in Huron County, they always had to make the trip to Marmora to visit with Rick's parents at the holidays.

When they were first married, Margaret says they would be with their nieces and nephews on the family farm in Walton on Christmas morning before heading to Marmora with Rick, bringing her father Wilfred Shortreed along, to visit with Rick's parents for a few days.

After Shortreed passed away, Margaret said, they would spend the holidays with Rick's parents in Marmora. And when Rick's parents passed away, Rick and Margaret began spending the holidays with one of Margaret's cousins. The celebrations were full of good food, fellowship and card games. There have also been plenty of children at the gathering over the years, which has always been nice, Margaret said, with their infectious excitement and enthusiasm.

However, in recent years, Margaret says her cousins have begun gathering on the afternoon of Dec. 25. With their children a bit older now, they are often heading out to one place or another, so the afternoon of Christmas Day has served as a good time for the cousins to all get together and celebrate.

That gathering has always been marked by a non-traditional holiday meal that's always topped off with a large portion of the aforementioned Christmas pudding, sometimes even with a little ice cream.

Margaret says that while she and Rick don't really exchange gifts at Christmas, they like to be Secret Santas for the community at large. Rick says that, because they are married without children and retired, they don't have to wait for a holiday to take a trip or buy the other a gift, so that kind of generosity takes place over the course of the year.

Rick has served as one of "Santa's helpers" in the community.

This year, for Margaret, she marked the holidays with a year-end meal with the Walton Women's Institute in Blyth and at Melville Presbyterian Church on Dec. 11. The church hosted the annual Brussels ecumenical carol and scripture service, this year dubbed "On the Road to Bethlehem".

She is also heading up this year's Soup and More 2 annual Christmas dinner, which will be held over lunch on Dec. 23 with the help of Brussels Lion Gord Mitchell, who will be providing Christmas pudding and sauce for the meal.

This is also the third Christmas that Margaret has been working with Blyth's Lynda McGregor to collect for the Huron Women's Shelter around the holidays. She says they have been overwhelmed with the generosity of the community when they come by in search of items for the shelter. Gift bags are then packed and delivered to those who need them on Christmas morning.