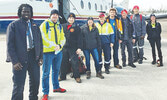 Blyth's Sawchuk aids Deer Lake First Nation humanitarian operation
BY SHAWN LOUGHLIN
Blyth's Theo Sawchuk, a member of Huron and Area Search and Rescue (HASAR), has returned from a humanitarian work force mission in Deer Lake First Nation in Northern Ontario near the Manitoba border.

The remote First Nations community, according to Sawchuk, had been locked down due to a very high rate of COVID-19 cases and was in need of assistance. Sawchuk was one of eight members of the team to heed the call, as civilian search and rescue volunteers from all over the country descended on the community to lend a hand. Sawchuk was part of the first-ever Search and Rescue Volunteer Association of Canada (SARVAC) Humanitarian Work Team.

With wood-burning as the main heat source in the community, members had requested assistance in felling, chopping and distributing firewood. In addition, Sawchuk said, the local medical professionals were in need of help at their facilities when it came to basic organization and maintenance, as they had their hands full with the high number of COVID-19 cases and an influx of medical supplies waiting to be used.

The response, Sawchuk said, is part of a partner program between the federal, provincial and local tribal governments. It will serve as a trial case for such a response and it may help establish a model that could be used in the future to help with evacuation from forest fires or flooding emergencies.

Initially, Sawchuk said, four HASAR members were supposed to make the trip, but in the end, it was just Sawchuk and a second member of the volunteer organization. This is not Sawchuk's first time responding to an emergency as a HASAR member, as he joined a number of others in 2019 volunteering during the floods in Ottawa.

Being part of the team in Deer Lake First Nation was an interesting experience for a number of reasons, Sawchuk said. First, the team was very diverse and hailed from many walks of life. However, as trained civilian members of search and rescue teams, they all possessed similar skills and knowledge, so they were able to work together pretty quickly and seamlessly, despite not knowing each other.

Second, Sawchuk said, the experience was very eye-opening for him and other members of the team when it comes to learning about First Nations communities and their residents.

Sawchuk said he felt as though his big takeaway from the trip was knowledge for himself, rather than how much he was able to help the community.

The team was supposed to stay for more than a week, but in the end, they were there for five days earlier this month. Sawchuk said the team could have stayed longer and continued to help.

Unlike the Ottawa mission, Sawchuk said helping in Deer Lake First Nation was a matter of learning what was needed upon landing in the community. Furthermore, he said, because of the nature of the community, residents had to ask for help and direct the volunteers, rather than the team taking charge, which was new for Sawchuk and the rest of the volunteers.

Learning more about the community, he said, and the intricacies of helping a First Nations community was very educational and he says it can only help search and rescue volunteers going forward.

He said he and the other volunteers would rotate around the community, helping where they could and where they were needed.

He did say there are some next steps for him and other members of the HASAR team before another similar operation. He said training like chainsaw certification, wilderness first aid training and other training sessions, such as relations with First Nations communities, would all be assets moving forward for search and rescue volunteers.

In regards to the program and the good it can be doing with First Nations communities, Sawchuk, after seeing its impact firsthand, said he really hopes it's the beginning of something.

For more information on HASAR, visit its website at hasar.ca. The organization's second annual Spring Adventure Day is set for April 30, though it is already full, and its second annual fundraising golf tournament is scheduled for Saturday, July 9 at White Squirrel Golf Club near Zurich.