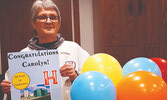 Blyth's Somerville marks 50 years with Howson and Howson
BY DENNY SCOTT
Last week, employees at Howson and Howson Limited in Blyth celebrated a remarkable achievement as Carolyn Somerville marked her 50th anniversary with the company.

On Thursday, Jan. 27, Somerville's coworkers marked her long and ongoing career with a celebration, 50 years after she started at the company.

Somerville started as a bookkeeper/secretary at the company, she said, before heading over to the lab many years ago and has been there ever since. She worked at the Clinton Canadian Forces Base in Grade 11 and 12, but, besides that, Howson and Howson has been the only job she's ever had.

She started with Howson and Howson, she said, because it was handy, being close to her family's home, but she has stayed because she's always enjoyed her job.

Things have changed significantly over the last 50 years, she said, and that has been part of what has kept her working at the company that long, through three different generations of the Howson family.
"It's gotten busier and bigger over the years," she said.

Somerville tests samples for every customer and every load of wheat that comes in, looking for different specifications for each order. She measures statistics like moisture, protein level and colour for the different products that come through the mill.
"It's always been good and it's something I look forward to doing every morning," she said, adding she isn't looking at retirement any day soon.

She said the Howson family has always been accommodating and kind, which makes it easy to enjoy the job, as has the fact that she's busy throughout the day.

President Jeff Howson also spoke to The Citizen about Somerville's time with the company, saying that, when she first started in the laboratory, everyone wore three or four hats, so the job was different back then.

"She worked for a period with my grandfather, and worked for my father's generation and now she's working with my generation," he said, adding his is the fifth generation to operate the company.

Howson said Somerville has missed very little work over the years and that kind of dedication isn't common these days. He said, at a recent meeting for the industry, on average people stay at jobs for five years or less, so to have someone mark 50 is truly a special occasion.

"I think it's different in rural southwestern Ontario, as people may stay in their jobs a little longer, but 50 years is something worth noticing," he said. "It's a big commitment and big support for the company. We see it as big on her part, staying with us. At the same time, it's great to have someone who has worked with our family for 50 years.

"It's a very positive and big achievement, and something we're proud of and something she's very proud of," Howson said.