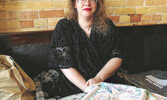 Blyth's Stevenson readies 'How Far I've Fallen' for Festival Art Gallery season
BY SCOTT STEPHENSON
This week, The Citizen sat down at BRØD bread & pastry in Blyth with local artist Kelly Stevenson as part of an ongoing exploration of upcoming exhibitions for the 2023 Blyth Festival Art Gallery season. Stevenson's latest solo exhibition - How Far I've Fallen - is set to run from Aug. 18 until Sept. 9. The collection, an experimental mixed media showcase, is sure to be an engrossing experience.
We met at beloved local bakery/cafe/artist haunt BRØD bread & pastry. The shop was characteristically packed with bread-heads and cookie enthusiasts looking for answers. Over coffee, the artist spoke with enthusiasm about a trove of topics, including family, memory, isolation, mental health and cats. The charming coffee shop also doubles as an art gallery in its own right - the walls adorned with work by artists from across the province, and as luck would have it, the only table available that Friday afternoon was right beneath a collection of eye-catching graphic totes designed by none other than Kelly Stevenson. Featured on the bags is The Everyman - a sort of enigmatic Waldo/Minion hybrid that pops up frequently in Stevenson's work. Also featured on the bags are floral and industrial motifs.
As with the gallery's other upcoming shows, Stevenson's exhibit was originally slated to open in 2020, and was pushed back repeatedly due to the COVID-19 pandemic. The long delay between inception and realization has been a common impact point for all the artists showing this year, and multi-disciplinarian Stevenson is no different. "I honestly didn't plan to be here this long to start with, it was supposed to be a short-term solution that turned into a long-term solution."
In the long, long ago of 2020, her solo exhibition existed under the moniker "razing landscapes". Stevenson, who moved to Blyth from Dublin, Ontario at the age of eight, has long been fascinated by local landscapes and structures, and "razing landscapes" started as an exploration of the artist's struggles with mental health through those environments. While those elements are still at the core of her updated exhibition, transformative times have led to many transformations to her collection, and to reflect that, she has renamed the show "How Far I've Fallen". "I started the series in 2014," she explained. "It was all mostly abandoned or falling down buildings in the area. It started as kind of a way to capture an era that's gone by, but as time moves on, they've become a little bit more like self portraits to me… I felt a kinship with the images I was making."
Another notable change to her panoply of pieces is the incorporation of embroidery and other fibre arts. "To me, if you are making something, you're an artist. You don't have to have a background, you don't have to have an education." By experimenting with materials traditionally considered more "craft" than "art", Stevenson hopes to challenge the nature of those definitions. "I think part of my problem with so much of the art world is the hierarchies, and the fact that certain things are taken more seriously than others." Pre-pandemic, she was working mainly in the more traditional mediums of pen and ink. Only during the enforced solitude of lockdown did she really begin to experiment with techniques often relegated to the category of "women's crafts".
Accessibility is also high in the mind of the young artist. "I think creativity and art should be open for anybody. It shouldn't be such a closed group of people that have access, or the ability to do it." This focus on making art accessible to all is also evident on the commercial side of her work. An active participant in local arts and crafts fairs, Stevenson offers her art at a variety of price points, since not everybody interested in buying art can afford an original. Beyond person-to-person sales, Stevenson's online shop (kellyedstevensonshop.ca) carries both original art and items like prints, pins, t-shirts and the aforementioned tote bags.
Stevenson, an alumna of Toronto's Ontario College of Art & Design University, has had beneficial experience in both urban and rural art scenes. One pitfall of being a rural artist, according to Stevenson, is isolation. "Sometimes, being out here, it can be kind of isolating, which has been a bit difficult at times, especially when you're an artist who works alone in a studio."
This sense of isolation was one of the driving forces behind the recently introduced Critique Night at, you guessed it, BRØD bread & pastry. Critique Night is a chance for local artists to get out of their studios and have actual conversations with real human beings in a comfortable environment, and artists who submit their work are critiqued by their peers. The first two nights (held on the third Wednesday of every month) have been a great success, and Stevenson is looking forward to the next one.
The topic of mental health is a common theme throughout most of Stevenson's work, and she hopes it can start a dialogue and open doors to the ability to have difficult conversations. When asked if it can be difficult to be so open about personal issues in such a small community, she responded with a positive message. "I want to be open about what the work means to me, not just say, "Hey, here's some pretty pictures."
Stevenson's pictures are indeed pretty, but they can also be stark, lonely and full of whimsy. There is crumbling brick, but also polka dots. When we gaze at these shambolic constructs - the dilapidated barn, the crumbling church - some of us see the cracks in our own lives. For others, the images evoke the bustling hubs that once housed our communities, our congregations and our cows.
Kelly Stevenson's "How Far I've Fallen" runs from Aug. 18 until Sept. 9 at the home of the Blyth Festival Art Gallery, the Bainton Gallery at Memorial Hall.