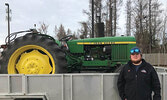 Blyth's Townsend claims silver at national plowing competition
BY DENNY SCOTT
Blyth's Luke Townsend has captured the second-place prize at the national plowing competition for the second time in what is now his last year in the division.

The competition, which was held in Rivers, Manitoba from May 2 to May 6, marks the pinnacle of the plowing competition for the junior division, meaning Townsend's second-place finish puts him in rare company. This is the second time he's claimed the prize, though not consecutively due to COVID-19 resulting in the cancellation of previous national competitions.

The competition was a difficult one, Townsend said, as he had little time to practice. He spent two days practising before he travelled west for the competition, then had two days to practise in Manitoba before the competition. The short timeframe didn't phase him, however, as he said he felt good and, on top of that, most of the other contestants were in the same boat.
This is Townsend's last year as a junior and he plans on trying his hand at the senior class next year, which could offer him the chance to compete at the World Ploughing Championships in the future.

Townsend thanked his family for the effort put forward in not only getting him to the competition, but for the efforts leading up to it as well.