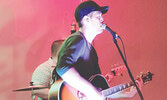 Brussels' Adam Cousins wins Forest City London Music Awards
BY DENNY SCOTT
Brussels native Adam Cousins said that winning the Forest City London Music Awards Country Artist of the Year award and the Music Video of the Year award for "Young Again" was "pretty crazy" and inspiring.

"It was a little bit of a surprise, and pretty crazy, to be honest," he said. "Obviously the nominations were greatly appreciated, but I had no idea I was even in the running for winning."

The awards, handed out based on votes on the Forest City London Music Awards' website, were presented at the event late last month, with Cousins being named the Country Artist of the Year and Derek Lamoureux, the director of the "Young Again" music video, being recognized for his efforts. The video can be watched on Cousins' YouTube page.

Cousins wasn't able to attend the celebration, as he had just moved to Point Clark to start a new job, but he said he was there in spirit and received numerous text messages from people who were at the show and who had heard about the win.

"It's just another reminder to keep pushing forward," he said. "Lots of things come up in the real world, in your personal life, and you have to keep pushing and doing what you love."

He said the awards prove to him that his goal of connecting with his fans, making music and making videos are putting him on the right path.
"I'm doing something right, something I love, as much as I can," he said.

Cousins recently performed at the Blyth Rutabaga Festival kick-off concert, and is is next on stage on July 23 for the Hagersville Rocks Music Festival, playing with acts such as Aaron Pritchett and Dan Davidson. Just over a week later, he will be performing at the 14th annual Boot Hill Jamboree Camping and Country Music Festival alongside performers like The Road Hammers and Jess Moskaluke.

For more information on his music and upcoming acts, visit www.adamcousinsmusic.ca.