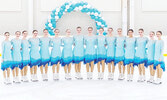 Brussels figure skater and her team win synchronized bronze
BY DENNY SCOTT
Allyson Barbour, daughter of Marc and Tricia Barbour of Brussels, recently competed at the Skate Ontario Regional Synchronized Skating Championship in Oakville and brought home a bronze medal.

Earlier this month, Barbour, as part of Tavistock Team Unity, competed at the event. The team includes 16 skaters from age 13 to 19 and took third place out of eight competing teams, which earned it a spot to compete at the Skate Canada Synchronized Skating Championships in Calgary, Alberta, held Feb. 25-27.

The team is back on the ice training under coach Tara Wilkins, who coaches eight other teams under the same banner.
In an e-mail to The Citizen, Tricia explained that the team is open to sponsorship opportunities to help offset the cost of participating in the championships.

Barbour started skating with the Brussels Figure Skating Club when she was seven years old and has been with the Tavistock-based synchronized skating club for eight years. She started at the beginner level, making her way up to intermediate, which is where she has skated for the last three years, with the COVID-19 pandemic making it difficult to practice and compete.
Despite that, Tricia said, the team has persevered and Barbour and her teammates are anxious to compete in Alberta.