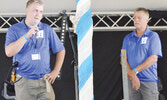 Brussels Homecoming committee donates nearly $60,000, leaves seed money
BY SHAWN LOUGHLIN
As a result of the success of the Brussels 150th Homecoming, held in the village last summer, the committee has donated nearly $60,000 to local organizations and left seed money for the next homecoming event and committee.

At Huron East Council's March 7 meeting, council approved 15 of the 16 recommended donations from the committee, only holding one back until more information could be gathered, totalling $58,004.90. Furthermore, the committee recommended leaving $16,000 in the Brussels Homecoming reserve to be used as seed money for the next homecoming event.

This comes after the committee reported a profit of $74,005 after all of the expenses were cleared, telling council the event was a success.

The donations are as follows: Ethel Minor Ball, $500; Brussels Minor Ball, $2,500; Brussels Minor Soccer, $2,500; Brussels Skating Club, $2,500; Blyth Brussels Minor Hockey, two donations for $2,500 and $1,504.90; the Grey Firefighters' Association, $4,000; the Brussels Firefighters' Association, $4,000; St. John Ambulance, $2,000; Huron and Area Search and Rescue, $2,000; the Brussels pool, $5,000; the Brussels ball diamond, $10,000; kitchen supplies at the Brussels, Morris and Grey Community Centre, $5,000; the Maitland Mills Association, $10,000; Soup and More 2, $1,000 and gym equipment for the Brussels, Morris and Grey Community Centre, $3,000.

The one donation council pulled is the $10,000 for the Maitland Mills Association. Brussels Councillor Jeff Newell said he had no intention of telling the committee how to donate its money, but he was concerned that, if that project were to not go ahead, what would happen to the donation.

Chief Administrative Officer Brad McRoberts said that, if there is a concern, the municipality could essentially hold the donation in trust, for lack of a better term, for the association until such time that it's needed. However, council directed staff to further investigate the association's work to obtain the Logan's Mill property in Brussels and to ensure the donation gets to where it needs to go.

Councillor Ray Chartrand said he was very happy to see that the event posted such a robust surplus and for the committee to turn around and donate it all and set the next homecoming committee up for success with seed money was tremendous news for the community.

Council approved the donations, with the exception of the Maitland Mills Association donation, holding it until staff could learn more.

"The funds allocated are very much in support of and in line with Huron East's activities and plans for the community of Brussels," McRoberts said of the donations in his report to council.