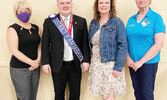 Brussels' Mitchell claims District 8 Ambassador title
BY DENNY SCOTT
After three years, Walton-area native Sean Mitchell has taken the next step towards the Ontario Association of Agricultural Society (OAAS) Ambassador position by winning the District 8 Ambassador Competition.

Held over the weekend in Mitchell, the event saw Mitchell take part in a number of activities, leading to him being crowned the representative for the area. Mitchell, who has been the ambassador for the Brussels Agricultural Society for three years due to the COVID-19 pandemic, said he has been looking forward to the competition and the prospect of winning for some time.
"The competition is one of those things, considering the impact of the pandemic, that's been a long time coming and I've been looking forward to it for a long time," he said in an interview with The Citizen on Monday. "It was really nice just to be able to compete, and more so to be successful."

Mitchell explained that the competition, which was held on Saturday, followed a workshop two weeks ago which helped him and his fellow contestants to prepare for the event.

When the competition itself rolled around, Mitchell said there were a number of components to it, including an "elevator pitch", an interview with the judges and his speech, which is printed at the end of this article.

"They have really structured the whole program towards being a professional development asset, which is not new, but does make the whole ambassador program really relevant for competitors," he said. "In the past few years, it has shifted towards a very practical opportunity to develop professional skills and leadership, which is very applicable for someone in my position beyond the [Brussels] Agricultural Society."

Mitchell, who is a University of Guelph graduate, is involved in his family's farm and also works as a parliamentary and policy assistant at the House of Commons, making the skills he worked on through the ambassador program good for all aspects of his life.

His speech is a call to action, he said, encouraging more people to be part of the agricultural community. He said that organizations like agricultural societies need to share their stories and talk about the opportunities in agriculture, as well as the pride these societies and agricultural communities have in their producers.

"That way we can help include more people in the industry and address not just the labour shortage, but the skill shortage as well," he said.

The interview portion of the competition let him show who he is not just as a person, but as an ambassador, and also delved into how much support his local agricultural society has offered him. His feedback was that both the Brussels Agricultural Society and the ambassador committee have been nothing short of excellent in their support of his efforts.

While the OAAS ambassador competition happens later this summer, the Brussels Agricultural Society will, in the coming months, be selecting its first new ambassador in three years. Mitchell said his best advice for those looking to follow in his footsteps would be to focus on their own strengths and how they can be utilized as an ambassador. He said there is no one-size-fits-all approach to the title so his efforts, which focused on agriculture and how local community intersects with agricultural efforts, may not work for someone with a different background.

"That's what it comes down to: being able to focus on being who you are, being authentic and showing how that can help you succeed as an ambassador," he said.

Watch The Citizen for more information on the upcoming ambassador competition.

SPEECH
How did you get here today? I don't mean to ask whether you drove a pickup truck, or rode a horse. I mean: what path did you take to find yourself involved in agriculture and at an agricultural society event? Were you born into it or was it a choice? In my case, it happens to be both. I farm with my family and in my professional life, I make good use of my farming background and my degree from the University of Guelph.

Judges, agricultural society members, family, friends, and contestants: We need more people who choose to become a part of our agricultural community, especially when you consider that the number of farmers under the age of 35 in Canada has declined by over 70 per cent since 1991. We can't be a "closed shop" or we are putting the future of food production at risk. We need to be enticing more than the country kids to bring their talents and experience to the agri-food industry. No matter how we got here, we must address the dramatic rural-urban divide with accurate information that will include urbanites in learning about and valuing food production from farm to fork.

As stated in Canada's next agriculture policy framework, also known as "The Guelph Statement", producers and the entire agri-food supply chain must rise to the climate change challenge, increase international competitiveness, and feed a growing population, all while retaining public trust. And if that weren't already enough, farmers have to accomplish this with less land, using modern farming techniques, while combating herbicide resistance — and still somehow try to make a profit!

Though daunting at times, the challenges facing food production can actually be viewed as an opportunity, but only if we have a motivated workforce equipped with the skills and ability to confront it head-on. To attract and retain people from all backgrounds, we must overcome outdated conceptions of farming. It is incumbent upon all of us, as ambassadors, to share that the agrifood industry is innovative, adaptable, highly skilled, data-driven and diverse. To transcend the rural-urban divide, we must extend the pride we feel as producers to include all who work in the agri-food industry. And we shouldn't be shy about sharing that jobs in agri-food are well paid and that there are three jobs waiting for every ag. graduate in Canada!

My role as an ambassador is to share the opportunities in agriculture, and by doing so, we can help others choose a path into agriculture. Promoting ag. as a progressive industry with excellent employment opportunities will bolster the talent pool by attracting and retaining the skills and talent we need to feed the world. I challenge you all to do the same!

Thank you.