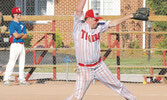 Brussels' Sebastian headed to New Zealand for softball World Cup
BY DENNY SCOTT
Ty Sebastian of Brussels has been named to Team Canada to take part in the Tradestaff World Baseball Softball Confederation Men's Softball World Cup in New Zealand later this month.

Sebastian is replacing Devon McCullough of Saskatoon on the squad and will be flying out on Nov. 15 for the tournament, which runs Nov 26 to Dec. 4.

"On Nov. 15, we fly out to Vancouver, then from Vancouver to Auckland," he said, adding he will arrive on Nov. 17 thanks to flying through different time zones. "Then we're in a pre-tournament tournament in Palmerston North on Nov. 18 and 19 where we will face off against the five other top countries in the world: Australia, Japan, New Zealand, the Czech Republic and Argentina."

Sebastian knew he was on the short list for the team, but found out only a week before he was asked to take part in the tournament.

"I got a call about a week before I got the official invite to represent Canada," he said. "They asked me to be on standby in case someone wasn't able to go."

Sebastian said he was pretty excited for the chance to represent his country and take part in such a high-level competition.
He said that both tournaments will include stiff competition, as Argentina took the last World Cup title in 2019, but he thinks Team Canada has a good chance of winning.

"Everyone's in pretty good shape, just coming off the season," he said, adding that's preferable to the tournament being held in February, months after anyone in Canada has been on a ball diamond.

That confidence has only been bolstered by the support he's received from his community.

"I've had a lot of messages reaching out and congratulating me," he said. "That's normal for how Brussels is - when something big happens, the community rallies behind people, regardless of what they're doing."

Between the pre-tournament, preparing for the tournament and the competition itself, Sebastian said he doesn't know if there will be much time to take in the sights of the host country.

"We might get the odd travel day, but we're going to be focused on playing ball and coming home with the gold medal."

For more information on the tournament, visit swc2022.com.