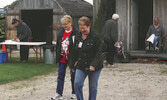 Brussels Terry Fox Run set for Sept. 18
BY SHAWN LOUGHLIN
It's September again, which means it's time for the Terry Fox Run in Brussels. The run is set for Sunday, Sept. 18 from 10 a.m. to 2 p.m. with four- and eight-kilometre courses throughout the village.

The run begins at the Brussels Optimist Club's headquarters in the north end of the village beside McDonald Home Hardware.
Participants can pick up pledge sheets that day during registration or any time online at terryfox.org.

Since its inception, the Brussels Terry Fox Run has raised nearly $180,000 for the Terry Fox Foundation and cancer research in Canada.
This will be the 42nd annual Terry Fox Run in Canada and the 28th annual run in Brussels.

For several years, the local iteration of the run has been co-hosted by the Brussels Lions Club and the Brussels Optimist Club.
The Terry Fox Run builds on the legacy of one of Canada's true heroes, whose Marathon of Hope in 1980 inspired a nation to rise up and work to defeat cancer.

Fox began in St. John's, Newfoundland on April 12, 1980 and continued running the equivalent of a marathon every day, including his 22nd birthday, until his cancer returned and he was forced to stop on Sept. 1 just outside of Thunder Bay. Fox was on the road for 143 days and had travelled nearly 5,400 kilometres.
Fox would die on June 28, 1981 with his family by his side.

The very first Terry Fox Run took place on Sept. 13, 1981 thanks to Isadore Sharp, the founder of the Four Seasons Hotels, who was one of Fox's earliest supporters.

Sharp, who had lost his own son to cancer, donated $10,000 to Fox's cause and challenged 999 businesses to do the same.
Over 300,000 people would take part in that first-ever Terry Fox Run, which raised over $3.5 million. In the years that would follow, the run has raised over $750 million.

In addition to the Brussels run, Terry Fox Runs will also be held in Clinton, Wingham, Seaforth, Lucknow and Goderich.
For more information on the run, visit terryfox.org.