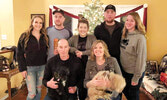 Brussels' Ty Sebastian ready for world championship questions this Christmas
BY DENNY SCOTT
Brussels' Ty Sebastian is ready to answer a lot of questions about his trip to New Zealand at his family Christmas celebrations this year, fitting that in with other usual activities.

Sebastian recently returned from the World Softball Championships in Auckland, New Zealand, where he and Team Canada earned a silver medal and he knows there will likely be a number of questions about that at Christmas parties hosted by both his family and his wife's family.

"I'll be on the hot seat this year," he said. "People are already asking, and the number one question this far has been how the weather was."

Aside from the weather, he expects he will get a lot of questions about how it felt to be a part of the team, get the medal and just be on the field with talent from across the world.

Christmas for the 29-year-old Sebastian has always been a time for family. When he was younger, he would visit his grandparents and have traditional celebrations. On Christmas Eve, for example, he would usually visit his mother's family, then on Christmas Day he would spend time with his father's family.

The meals were always home-cooked, he said, and while there wasn't any kind of planned annual staples, he said they were always good.

Christmas is busier for him now, as he and his wife, Deanna, have to fit in a few more family events.

It's an exercise in creative scheduling, he said, trying to fit celebrations in on the same night or night, but they made it work.
Prior to the COVID-19 pandemic, Ty and Deanna would head to a special celebration with Deanna's family that included skating, however Ty didn't know if that would come back any time soon, as it hasn't happened in the past few years.

Regardless, he looks forward to the celebrations, he said, and spending time with his family.