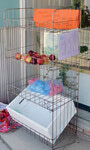 Caring and Sharing Group reaches out with vegetable stand
BY DENNY SCOTT
The Blyth Women Caring and Sharing Group, a recently-established service organization, is hosting its first outreach initiative on Blyth's main street with a free vegetable stand.

Charter member Rev. JoAnn Todd says the group's roots, which first took shape in 2019, are tied to similar groups in the area and their goal is to help those in the community who are getting by with less.

Todd, who serves at Blyth's Trinity Anglican Church, started the group alongside Huron Perth Public Health's (HPPH) Gloria Workman, who lives in Blyth. Todd said she had worked with the Brussels Community Alliance and noticed that a similar group, which works solely to help the less fortunate, didn't seem to exist in Blyth. The alliance had been formed with help from the HPPH, so Todd reached out to Workman to start the process to establish a similar group in Blyth. The two were just starting to get the group together when the pandemic derailed the project.

Todd said the group had to start out through Zoom calls instead of in-person meetings, which was a hurdle, but not one that couldn't be managed, as there are now eight members of the core group working towards new projects.

One of the first goals of the group was to establish a name and a mission statement, which Workman and Todd spearheaded. Todd said the group approved the following mission statement: "[Blyth Women Caring and Sharing work] together with the community to overcome challenges."

The group's vision statement is to offer opportunities for people to connect, share resources and "fun, fresh ideas".
The first outreach project the group tackled is a vegetable stand in front of architect John Rutledge's office on Blyth's main street, which has been very successful.

"It has started out with rhubarb, and it doesn't last long on the stand," Todd said, saying people are definitely using the site. "We encourage people to share extra produce through the stand, and for those who need it, to take some."

The stand also features some recipes for using rhubarb.

Todd said the project may eventually lead to a community garden, though that would be dependent on space being made available.

The group is also planning a mom-to-mom exchange once lockdown rules are loosened.
"We're in the early stages of planning that," Todd said.

The group is focused on women, Todd said, because when the group hears from women, they are hearing from their families as well.

For more information on the group, or to reach out, it can be found on Facebook or Todd can be reached by e-mail at revjoann@hurontel.on.ca or by phone at 519-357-7781.