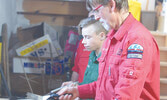 Cartwright wins Blyth Citizen of the Year Award posthumously
BY SHAWN LOUGHLIN
The late David Cartwright has been named this year's Citizen of the Year winner for Blyth and its surrounding communities after he received several nominations for the award.

Cartwright passed away suddenly, in his 60th year, on Aug. 30, leaving behind his wife Shari and children Ashley, Brittany and Tyler.

Nominations lauded Cartwright and his long-time affiliation with the First Blyth Scouts and his time volunteering with the Trinity Anglican Church in Blyth.

"[David] wore many hats at Trinity, each one of them so important to life in this close-knit group. He brought his professional skills whenever the heating system and other building needs required attention," one nomination read. "He was, for many years, a member of the church council and, most recently, served in an executive role as church warden. On Sunday mornings, he often participated in the worship service as a scripture reader and prayer leader."

One nomination also stated that Cartwright was a staple at the church's annual bacon on a bun booth at the reunion of the Huron Pioneer Thresher and Hobby Association, working to set up the fryers and grills, while also volunteering his time during the reunion. Cartwright, the nomination reads, was set to take over co-ordination of the booth when the next reunion was held.
"Dave Cartwright was simply an outstanding guy - a great dad, a giving member of the community and a dedicated member of the faith family at Trinity Anglican Church," one nomination read. "[He] was an inspiration to the youth of our community as an environmentalist and a giving man who lived his faith. He enriched our community in many ways and is truly deserving of the Citizen of the Year Award."

Lavern Clark, Cartwright's colleague with the First Blyth Scouts and a Citizen of the Year Award winner himself in 2002, said in his nomination that he had many fond memories of Scouting activities and trips with Cartwright over nearly 30 years.

"Dave was dedicated to the youth and thrived on helping them grow their interests and skills in the out-of-doors over a continuous period of 28 years," Clark said in his nomination. "Dave loved to camp, in all four seasons. He shared his knowledge and skill freely with the Scout youth. Dave loved canoeing and canoe camping, as we did annual canoe trips with the youth. He also shared his knowledge with a large number of other adults (Scouts and Guides), assisting in training at Flat Water and Wilderness Canoe Tripping courses.

Clark noted that Cartwright took Blyth youth to two Canadian National Jamborees in Quebec and Prince Edward Island and did an Offer-of-Service at two other Jamborees.

Cartwright would eventually be honoured by Scouts Canada with one of the organization's highest honours: the Medal of Merit.
Clark also noted Cartwright sharing his woodworking skills and traditional log cabin with local Scouts, as well as his efforts with the Maitland Trail Association in assisting the organization of its 48-kilometre hike, also acting as a sweep and first aid for the event.

"Dave was a skilled wood worker and he shared his basement workshop and his equipment with the Scouting youth of Blyth. There were Kub-Kars every year and making Japanese bamboo long-bows, snowshoes, hickory long-bows using a tether board and diamond willow hiking staves. Every youth that participated in troop Scouts eventually made their own personal laminated wood paddle and were very proud of their achievement. I have lost count of the number of paddles we have watched be crafted," Clark said in his nomination. "Dave owned a wetland nature reserve where he and his son Tyler built a traditional log cabin. Over the years, all aged of youth from First Blyth Scouts have been allowed to explore and develop outdoor nature and camping skills at this reserve. Dave has been very generous with his resources."

Cartwright also served as a board member with the Compton Traditional Bowhunters Association, volunteering with the youth program and weekend activities.

The Citizen of the Year Award winners are nominated by members of the community over the course of the year. After the nomination period comes to an end, those names are then considered by the past five winners of the award, who then choose the winner. North Huron Publishing has proudly presented the award every year since it was founded in 1985, over 35 years ago.

Past winners of the award in the Blyth area are: Evalena Webster, 1985; Frank and Cenetta Bainton, 1986; Winona McDougall, 1987; Margaret Whyte, 1989; Simon Hallahan, 1990; Dr. Richard Street, 1991; Bill and Maxine Seers, 1992; Margaret Caldwell, 1993; Helen Gowing, 1994; Don Scrimgeour, 1995; John Stewart, 1996; Janet Amos, 1997; Betty Battye, 1998; Robb Finch, Dave Cook, Brent Scrimgeour and Doug Walker, 1999; Murray Siertsema, 2000; Charlie Shaw, 2001; Lavern Clark, 2002; Bev Blair and Thelma Johnston, 2003; Steven Sparling, 2004; Don "Barney" Stewart, 2005; Lois van Vliet, 2006; Janice Henry, 2007; Joe Hallahan, 2008; Brock and Janis Vodden, 2009; Jean Nethery, 2010; Kay Hesselwood, 2011; Steve Howson, 2012; Barbara Bosman, 2013; Marian Hallahan, 2014; Nellie Mason, 2015; Ernie Phillips, 2016; Ric McBurney, 2017; Carl Nesbitt, 2018; Jane Smyth in 2019 and Annie Sparling in 2020.