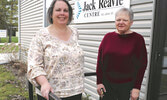 Celebrating Community Living Month in Wingham
BY SCOTT STEPHENSON
May is Community Living Month in Ontario - the province's annual awareness campaign designed to bring attention to one of the most crucial and undervalued parts of our housing ecosystem. There are many people living in Canada who yearn to live independently, and just need a little bit of help to achieve that goal.

Community Living spaces exist to offer an environment of inclusion and independence to individuals who have intellectual disabilities, as well as their families. The overall mission is to assist each individual with an intellectual challenge to achieve their unique dreams and wishes by providing encouragement while fostering communications between individuals, families, friends and the community.

Community Living Ontario (CLO) is an organization that has worked in housing advocacy for over 70 years, and is currently working with over 100,000 people and their families, funding and supporting numerous community homes across the province. The organization's goal is a society where all people belong and have equal rights, and where those who have an intellectual disability are respected, accepted and have opportunities for growth and a sense of self-worth. Too often in the past our nation has allowed intellectually-disabled people to become marginalized, due to ignorance or indifference.

When one approaches the Wingham & District Community Living Association (WDCLA), it can be hard to imagine that past reality. The current location is just steps from the Wingham Community Trail running along the beautiful Maitland River. The pastoral scenery and local wildlife make for a stunning front yard that anyone from Wingham would be happy to have.
Governed by a board of steadfast volunteers, and managed by dedicated employees, the WDCLA has been helping residents realize their value as community partners since 1958.

Board President Brenda Schedler and Executive Director Debbie Hopper are just two of the many cogs in this essential social machine. Schedler spent 38 years as a teacher before dedicating her life's second act to assisting those who are too often be left behind, and Debbie Hopper studied Social Service Work at Seneca College before returning to Huron County.

Schedler is now in her seventh year with the association, having risen to the position of president. She attributes the success of their collective to "an amazing staff that works with the clients and respects the clients." The COVID-19 years were hard on their activity roster, but hopes are high that they will be able to reinstate favoured community events like their pre-pandemic cooking classes. Another crowd favourite that both Schedler and Hopper are hoping to see return - the annual trip to Toronto to see the Blue Jays play baseball.

Many clients of the WDCLA have jobs, and residents are encouraged to decorate their homes - a far cry from the sterile institutions of yesteryear. The people who live there are active members of their communities - participating in local events, paying rent and connecting with their neighbours.

One of the WDCLA's long-term residents, Charlie, has worked for many years folding church bulletins for local congregations. For years, Charlie has been part of the make-up of Wingham's downtown core, and could often be found scootering down Josephine Street in the summer sun, eyes shielded only by his trademark captain's hat. Charlie has lived, loved and laughed at the WDCLA for many years, and now that he is in his late 80s, Charlie has decided to retire from the publishing world in order to enjoy his golden years to the fullest. He has a retirement party coming up soon - just don't ask him to retire from brightening the day of everybody that he meets on the street - that part of his day comes too naturally to ever give up.

While much joy is generated in Wingham's Community Living home, the organization also faces many challenges. Schedler and Hopper are both acutely aware that the current system cannot accommodate demand, leaving a long list of people still waiting for support. Many people need a transition home between living with their families, or living independently, before moving into long-term care. Also critical - a perennial lack of funding. The women advocate for other concerned citizens hoping to make a difference to contact their local and provincial government officials, with the goal of drawing more attention to the lack of funds being directed towards such an essential service.

Beyond Wingham proper, the WDCLA manages homes in Lucknow and Teeswater, both of which are staffed by skilled workers. All of their facilities routinely excel in their annual compliance audit, always earning a rating of at least 97 per cent. The team attributes this elite rating to members' openness with the public, always keeping the lines of communication open with stakeholders and parents.

Schedler and Hopper expressed pride in both the accomplishments of their clients and the welcoming spirit of neighbours. The success of each one of their clients offers both women an enormous sense of satisfaction, and community support is the glue holding it all together. It can be easy to take these essential services for granted when such excellent, dedicated volunteers have been working so hard for so long.

At this time, many staff members are reaching retirement age, and new dedicated workers, volunteers and board members are needed. It takes the efforts of an entire community to lift itself up, and become the best that it can be. There are paid and volunteer positions currently available.

To continue the celebration of Community Living all month long, you can check the Wingham and District Community Living Association Facebook page for fun activities.