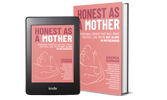 Central Huron's Cox pens chapter for motherhood anthology
BY SHAWN LOUGHLIN
Jennifer Cox, recently-elected Central Huron Councillor and long-time local educator, has contributed a chapter to a new book on motherhood, published last month.

Honest as a Mother: Personal essays that will make you feel like you're not alone in motherhood is credited to author Amanda Gurman, who also hosts a podcast called Honest as a Mother, but Cox is one of a dozen contributors who wrote a chapter for the anthology. It focuses on some of the untold stories of motherhood that aren't necessarily glamorous or happy, Cox said in an interview with The Citizen, such as infertility, pregnancy, labour, delivery, adoption, relationships and other difficult topics related to parenting. For her chapter, Cox wrote about her struggle with postpartum depression.

Cox has written before, contributing reviews to a former local website and then through her own blog, but this is the first time she's been published. When she wrote for her blog, she focused largely on parenting her last child, who came along as a surprise, but this is the first time she's been this open with such a large audience.

She says she has connected with the book because it initiates conversations that mothers don't always have and postpartum depression is one of those topics. Motherhood is often shown by way of perfect, happy moments, Cox said. And, while she and other mothers have had plenty of those as well, some of the more difficult issues or situations don't often receive the same level of exposure.

The book, she said, focuses on real situations and conversations, aimed at demonstrating to other mothers that they are not alone when they're struggling with some of the more difficult aspects of being a mother.

As for her experience with postpartum depression, Cox said she likely battled it for several years, but shrugged it off, attributing her symptoms to other aspects of life. So, when she reached out to her nurse practitioner to talk about what she was going through, things changed dramatically when, together, they were able to put their fingers on what Cox had been going through.

She said there were some early ups and downs with medication, but once they settled on the correct solution, the process was smooth and Cox wished she had spoken up and reached out for help much sooner.

She says that sharing her journey on her blog years ago was different, as she was writing for an audience largely composed of family members and friends. Writing a chapter of a book, she said, is very different and she was a little scared about being so open and honest in it. However, Cox consulted with her husband and their two adult children before going ahead with it, ensuring they too were comfortable with it as well.

As for the writing process, Cox said it wasn't too different from the blog posts she crafted years ago, but that she endeavoured to make her chapter of the book very clear and direct, knowing that most people who read the book will only read her chapter once, so she wanted to ensure she got her story across in that first reading.

While she has yet to iron out the details, Cox hopes to host an event at a local library to raise awareness of the book. While it's available on amazon.ca, it can also be found at Made in Huron in Clinton or by contacting Cox through her website, onceamother.com, which includes her blog, social media links and a form to order the book.

Books purchased directly from contributors ensure that those contributors receive some of the proceeds. Cox has committed to donate a portion of her proceeds locally to Rural Response for Healthy Children. As a board member for the organization, Cox said she realizes that she is in a privileged position to tell her story in this manner, knowing that other children and their mothers in the community do not have that ability, but that they too struggle and have stories to tell, which is why she wanted to give back through proceeds from the book sales.

For more information, or to buy the book, visit onceamother.com.