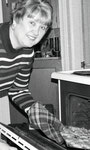 Christmas 2007: Robinson among the first to share traditions
BY SHAWN LOUGHLIN
Doris Robinson may best be known locally as a school secretary, having been both at East Wawanosh Public School and F.E. Madill Secondary School. She was the subject of one of the very first Christmas stories written back in 2007, when she shared her tale with The Citizen's Shawn Loughlin.
There are few things that say Christmas louder than a well-decorated home that smells like gingerbread.
Doris Robinson, secretary at East Wawanosh Public School, says the two things that seem to follow her into every holiday season are a lot of decorations and her homemade gingerbread.
Stuffed snowmen and other Christmas figures adorn every ledge and counter in the house, while plates of gingerbread cookies span the length of the kitchen table on this day.
Robinson loves Christmas she says, and it's been a big deal in her family as long as she can remember. Years ago, big celebrations and full houses were commonplace and she has brought these practices to her Belgrave-area home.
Robinson is one of those people whose attitude is contagious, and always with a sunny disposition, she breeds smiles throughout the house.
This is something that she has brought from her job, at which she prides herself on making a difference through her attitude and extra time put in.
"I hope that I can help make the school a nice place to be, so when people call or come by, it's a good experience. And hopefully the students feel that way as well," she says.
In addition to her time at the school, Robinson has started a bit of a Christmas tradition of her own, inviting the women of East Wawanosh Public School over to her house on a night close to Christmas for some social time. She has the teachers collect greenery, for a bit of decorating and she follows it up with a social time, something that she really prides herself on at the school.
"I really try to keep the staff close and friendly. It's a shame when co-workers don't get along, so I try to do things like this every once in a while," she said.
So while Robinson is busy starting new traditions at the school, the rest of her family is keeping old traditions alive at the house.
She says that for as long as she can remember, her husband and daughter have always gone out together to pick the family Christmas tree and cut it down. Soon enough, it's off to church for the Christmas Eve service and then some family time on Christmas Day and Boxing Day.
This year, she will be hosting the Robinson family Christmas. She said that her husband, Len, is one of three sons in the family, so every third year, the Christmas scene shifts to her house. And one can only imagine that a thoroughly- decorated house, greeting them with a table of gingerbread, won't be a bad place to spend the holidays.