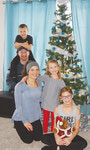 Christmas 2017: All about Elf on a Shelf for Blyth's Ansley family
BY SHAWN LOUGHLIN
Blyth's Ansley family celebrates Christmas with an Elf on the Shelf, which marks the start of the season for them. They shared their story with The Citizen and Shawn Loughlin in 2017.
In many ways, the most important figure at the Ansley house once Christmas rolls around isn't even a member of the family.
The Ansley family's Elf on a Shelf signifies the start of the Christmas season at their Blyth home, even though the festivities get started a little earlier than that.
Every year on Dec. 1 the elf returns to the family home. He stays throughout the day, but then it's said that he makes the long journey back to the North Pole every night to report back to Santa; both the good and the bad.
The next day, he returns to a different spot in the house ready to do it all again. And while children Mikayla, Rodney and Lexi certainly enjoy the elf's company, others in the house aren't so enthusiastic about their new house guest.
Dad, Mike, personally, said he doesn't know what all the fuss is about and mom, Katie, said that the elf, while a friend to her children, can be a bit of a troublemaker and pretty messy at times.
Mikayla confirmed her mother's claims, saying that the elf has turned up in some strange places and some odd scenarios over the years.
The elf, according to Mikayla, once built a slide in the house and there was another time that he constructed a toilet paper igloo in the middle of the family room. While the kids found it funny, Katie said it was just one more thing for her to do around the house.
But, it's all worth it, she said, so that her children can have that direct connection to Santa Claus.
And while the family's elf has been known to be a bit of a rapscallion, the focus really is on his main job, which is reporting back to Santa. All the kids agree that the elf very rarely has anything bad to report to the big guy.
Mikayla and Lexi said that they produce good reports to Santa and while Rodney chuckled a bit when asked, his parents both said that he is also the source of positive reporting to Santa.
Christmas time doesn't start at the Ansley house on Dec. 1 when the elf shows up, however. They have to be ready for him on Dec. 1 and that means decorating the house, both inside and out, in late November, so the halls are decked in time for the elf's annual Dec. 1 arrival.
That means that Mike, Katie and the children are busy in late November decorating the house, putting up Christmas lights and erecting the Christmas tree all before they flip their calendar over to the year's final month.
Katie said it wasn't until she began spending Christmases with Mike that she realized the virtues of a traditional Christmas tree.
Growing up on a farm outside of Bayfield, Katie said her family always had cedar Christmas trees. She knows now, she said, that cedar makes for the "ugliest" Christmas trees and hasn't made her way back to one since.
That rigid decorating timeline made for an interesting first Christmas in their new Gypsy Lane house last year. Mike was working on building the house late into the year and he was almost finished when they moved in to celebrate their first Christmas there as a family, but not all the way there.
The family had running water to only one tap and there was one bedroom, Rodney's, finished, so all five of them, and their dog Leroy, slept in the same room on Christmas Eve, waiting for Christmas morning to come.
Mike said he slept like a log, but Mikayla said it was one of the worst nights of sleep she's ever had, due to a combination of the unusual sleeping arrangement and the usual anticipation of Christmas morning.
Mikayla said she was up at about 4 a.m. asking Katie to let them go to the tree and see what Santa had brought them, but Katie urged her daughter to sleep for a few more hours. She made it all the way to 6 a.m.
As the holidays roll around every year, the family's youngest, Lexi, says she looks forward to a lot of outdoor activities, like building a snowman and walking past the village's unofficial Christmas tree at the home of Steven and Laurie Sparling. She's also a fan of tobogganing, which is great because the family has a built-in tobogganing hill out the back of their new home.
As far as scheduling is concerned, the Ansleys make sure to leave time for themselves around the holidays.
They always drive to Bayfield on Christmas Eve to spend time with Katie's parents. They attend church on Christmas Eve and then come back to Blyth to spend the night.
The kids always open one gift that night, which is usually something to help them get to sleep, like a new pair of pajamas or slippers. They have been known to play Spin The Bottle to determine who gets to open their gift first.
They watch a Christmas movie together – the film changes every year – and then head to sleep before Christmas morning.
On Christmas morning, the family also keeps things local. They open presents together and have some breakfast before heading out into the world.
On the night of the 25th, they always return to Bayfield to spend time with Katie's parents once again. This time, they plan to sleep over and head back to Blyth on Boxing Day.
As for Mike and Katie, they say that traditions haven't changed. When they were kids, Mike in Blyth and Katie on a farm just outside of Bayfield, it was all about family and remembering those less fortunate.
Katie said that something she and Mike really try to instill in their children around the holidays is just how lucky they are and that not everyone is as lucky as them.
They routinely donate to the Huron County Christmas Bureau around the holidays and have passed that charitable nature on to their children.