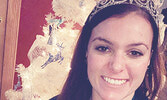 CHRISTMAS 21- Christmas movies, cards all hallmarks for Klaver
BY DENNY SCOTT
For Huron County Queen of the Furrow Maranda Klaver, now in her third year with the title, Christmas is a time for family and, with four sisters and her parents, a busy time at that.

"Christmas is definitely very busy, and most of my family is fortunate enough to have time off at Christmas," she said. "With that, we always make sure everyone comes over, we put on old Christmas movies, play cards and share a bunch of laughs."

She said the family enjoys the time together, playing games like euchre and 31 and occasionally pulling board games out as well.
The family is of Dutch heritage, she said, and continues some of the practices that go along with that heritage.

"What my grandma always did, as long as we can remember, is give a chocolate letter for Christmas," Klaver said. "My grandmother has now passed, but my mom still carries on that tradition and we all look forward to getting a chocolate letter of our first initial."

The family also does a "Secret Santa" celebration every year, and while the tradition has been going on for quite awhile, it has changed recently.

"We put a twist on it the last couple of years with the gifts having to be home-made," she said. "It adds a nice little spin to it."
The "Secret Santa" has been going on as long as Klaver can remember, she said, and it started out as a fun way for her parents to keep everyone excited about giving presents as well as receiving.

"It's something to look forward to," she said. "You don't know who will have your name, so you try and figure that out, and while you're excited to see who had you, it's also exciting to see someone open the gift you gave them."

She said the "Secret Santa" draw always happens on Christmas Eve, with the rest of the family's celebrations following on Christmas Day, but not until after the chores are done on the family farm.

The family usually takes in a Christmas Eve church service, but the chores need to be done either right before or after the service, Klaver said, which can be a bit chaotic.

"In the morning, we just go to the barn to make sure everyone is happy and everything is good," she said. "It usually works out fine."

COVID-19 has made celebrating the holidays a challenge, Klaver said, but her family still tries to get together when it's possible and safe.

"With the big Dutch family, there are so many of us spread out over so many ages," she said, explaining she has cousins that were born this year and aunts and uncles more senior than 70 years old. "We don't want to pass on anything to someone. We haven't really had a chance to have Christmas, and we connect with each other through social media and phone calls to keep everyone safe. Hopefully, when things are more safe, we can get together, but you can't pick and choose when it's safe and when it's not."

Having been crowned Huron County's Queen of the Furrow in 2019, Klaver said her own Christmas has changed a little bit over the past few years as Santa Claus parades are now a big part of her own schedule.

"Instead of watching the Christmas parades, I get to be in them," she said. "It's exciting to see the kids get excited when they see a queen, and there are comments on the tiara and my sash. It gets me excited for Christmas."

Most of the parades, she said, are held in November, so they serve as a way for her to get excited about the holidays beforehand.

She also participates in activities like the Seaforth Toy and Craft Show and Sale, which allow her to stay connected with the community.