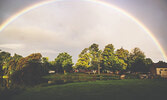 CHRISTMAS 21 - Community's generosity marks Christmas memories for Smith
BY SHAWN LOUGHLIN
Lynda Mayer-Smith of Brussels, the president of the Maitland Valley Camera Club, says Christmas has meant a number of things to her over the years. One of the most memorable holidays, however, was one that began with a tragedy and ended with an outpouring of community support.

Living in Brussels in the late 1980s, Smith said her family suffered a devastating loss in the fall when their house burned down and they lost everything. It was a chaotic time for the family, Smith said in an interview with The Citizen, especially for her children, who were just three and seven years old at the time.

While Lynda and her husband had plenty to work through and co-ordinate at the time, the children were concerned that Santa Claus would have no way of knowing that the family had abruptly moved to a new, temporary home after the fire, meaning they wouldn't get any presents that Christmas. The Smiths took care of that, however, and created a sign on the site to direct Santa to the family's new home to ensure no one was missed.

The Smiths now live in a new home on the site, but that first Christmas after the fire will always be memorable for the family, she says. The reason is the giving nature of the community, which made sure the Smiths would not go without that holiday season.
Through fundraisers and individual good deeds, Smith said the family was spoiled that holiday season. Everything was supplied for the Smiths, from the Christmas tree and decorations down to presents for the children. She says she'll never forget the generosity and care of the community that year.

That experience, Smith said, showed her family the true power of living in a small community where people care about their neighbours and go out of their way to help them when they need it.

Smith wasn't born in Brussels. She grew up all over the province, but spent some time in Penetanguishene and her holidays as a young girl always involved plenty of people.

She said her family didn't have much money growing up, but they also lived with her aunt and nine cousins, which meant it was always a "full house" around the holidays whether they had additional guests or not.

Smith said her mother always worked extra hard to make the holidays special for everyone in the house, and that included decorating in every room of the house. This is a tradition that Smith has continued since starting her own family and making her way to Brussels.

In her younger years, there was always plenty to celebrate at the house. Smith's mother's birthday was Dec. 9 and her parents' wedding anniversary was Dec. 23, so in addition to Christmas, there was plenty of celebrating going on.

Another memory of Smith's is her father baking fresh bread for every child in the house over the holidays. He sailed the Great Lakes, she said, and collected tins along the way so he could bake the bread. Then, around the holidays, no matter how many cousins were there for the holidays, everyone got a fresh loaf of bread as a present from him.

Working as a nurse for over 40 years, Smith's schedule was always a little unpredictable, so celebrating with her children and grandchildren has required everyone to be flexible and creative, but, whether it's Christmas Eve, Christmas Day or Boxing Day, they always find a day to spend together to mark Christmas.