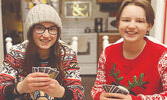 CHRISTMAS 21 - Games play big role with Gaspirc Christmas
BY DENNY SCOTT
Brussels Leo Club President Marley Gaspirc says that games are an important part of her family's Christmas tradition.

The 15-year-old F.E. Madill School student, who lives in Brussels, said that her family has some fairly unique traditions, including watching scary movies instead of the traditional Christmas fare.

"I'm not sure how it started, but for a few years, we've watched a scary movie on Christmas Eve instead of a traditional Christmas one," she said. "We were watching a bunch of scary movies at Halloween and I think it just kind of carried over from that. We decided we should do it at Christmas, and we've done it the same ever since."

Her entire family also gets new pajamas on Christmas Eve, usually some kind of matching set, to wear and celebrate in together, she said, adding she thinks that's a great tradition.

While many traditions focus on Christmas Eve, Christmas Day or Boxing Day, Gaspirc said many of her favourite traditions with her siblings are in the days leading up to and after Christmas, when they play together.

"Over the Christmas break, we do lots of video games around the house," she said. "We also play Nintendo games like Super Mario Brothers."

She said she also usually does a large puzzle, somewhere between 100 and 1,000 pieces with her family, over the break.
She also said that the classic board game Settlers of Catan is an important tradition for her and her family.
When it comes to Christmas Day, however, the traditions are around food and giving, she said.
"We usually start with stockings nice and early," she said. "Usually that's between 6 and 7 a.m. We're not allowed to wake anyone up before then."

She said the family typically enjoys a "wife saver" casserole made of bread, egg, milk, rice crispies and cheese.
"We've been doing that as long as I can remember," she said. "My mom probably had that as a kid, maybe."

From there, Gaspirc's holiday plans focus on spending time together with her family members. She typically visits her dad for one week at Christmas, but last year wasn't able to due to the restrictions.

"That was different," she said. "It was the first year I was here at my mom's house for the whole of Christmas break. I'm not sure about this year. We'll be waiting until closer to the time to make that decision."

She also spoke to the holiday traditions of the Leo Club, saying that, due to COVID-19, the last two years have been difficult for the organization.

"We're not really doing anything this year," she said. "We were at the Christmas Market at the Four Winds Barn, selling poinsettias and urn bundles, but it's not the greatest time to be trying to do community events right now."