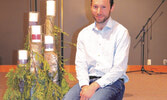 Christmas was international for Stanley for many years
BY DENNY SCOTT
Christmas for Huron Chapel Evangelical Missionary Church Pastor Mike Stanley has changed a lot from when he was a child to now, but it's always been, at its core, about Christ and family.

Born into a family of missionaries, some of Stanley's earliest memories of the Christmas holiday are not in Canada and, instead, half a world away.

For six years, he spent Christmases in West Africa with his family, who were working with the Bassari tribe, based in Senegal and Guinea. He remembers Christmas being about the message of Christ, but that didn't mean his parents didn't try to keep some of the more commercial traditions alive to give their children an idea of what Christmas was like in the western world.
One particular year, Stanley says, his father did his best to recreate a more western Christmas by making a Christmas tree. He put together a stick with wire coat hangers and pieces of green garbage bag, while Stanley's mother uncovered some LEGO sets she had brought with the family months back to serve as Christmas presents.

"We had a Christmas tree," he said. "In the bush there are no evergreens, but we had a Christmas tree."

The tree was short-lived, however, as the people of the Bassari tribe saw it and thought it was an idol, which wouldn't do, Stanley said.

"That was not what we wanted as missionaries, so it came down pretty quick," he said.

That experience, however, reinforced the idea that the core of Christmas isn't the gifts or the tree, but the time spent with family and the time reflecting on Jesus.

"The birth of Jesus is what's important," he said. "That's the central idea and that's what we have celebrated."

Eventually, however, the family's missionary work was completed, including building and starting schools, a church and agricultural projects. So, after years, Stanley and his family returned to Canada permanently.

That didn't, however, mean a more traditional Christmas for the family because Stanley's father and uncle would return to the tribe every year in December to help and deliver supplies.
"We wouldn't do our family Christmas until the end of December or January," he said.

Celebrations, however, continued in his father's absence with candle-lit church services, plays and concerts and, in general, a wonderful time with family, he said.

Now that he's married with his own children, Stanley has put a focus on finding a balance between the Christian and the commercial aspects of Christmas. When it's time to celebrate Christmas, he and his wife Amanda and their three sons, Micah (seven years old), Luke (five years old) and Isaac (two years old) still put the focus on Jesus and family, but that doesn't mean he's opposed to Santa and gifts.

"We had to figure out, as parents, how to instill in our children the knowledge of what Christmas is all about," he said. "Trying to find that balance, to focus on the real meaning, is so important, but we didn't want to make Santa 'bad' or be in a bubble."
Stanley says that Micah hit the nail on the head a couple years ago when he told his dad that Santa isn't the reason for Christmas, but he is the mascot.

"That's a good idea, and I like it," he said. "There's nothing wrong with mascots, with cartoon characters representing something else."

The reason for the season can exist with the mascot as long as the foundation is there," Stanley said.
One tradition Mike and Amanda do try to uphold is making sure that their children know the value of giving. The first step to that, Stanley said, was to make sure there was no confusion about who gifts came from by asking relatives to make sure the gifts came from them, rather than materializing out of thin air.

"This is the season of giving and we want to make sure our kids know there is joy in that," he said.

As far as traditional activities, Stanley's family visits his parents and his wife's parents at Christmas, but his extended family typically hosts something in the warmer months of the year because many are still involved in mission work. He said they actually do have Christmas in July, which further goes to show that the celebration is about Jesus and family, not about a specific day in the winter.

"The core of Christmas, of recognizing Jesus, should be recognized every day, and this helps remind us of that," he said.
Having that strong Christian foundation to Christmas makes it so that, even in the middle of July, the reason for the season can still be celebrated, Stanley said.

At home, however, they still do have a Christmas tree, lights and gifts and watch Christmas movies. The children also have an Advent calendar, but it's a home-made piece put together by Amanda and, instead of treats, it focuses more on activities. One day it will include something like putting up lights or decorations, the next doing Christmas baking, and Stanley says his children love it.

Finally, Stanley said that he enjoys watching the world celebrate Christmas, even if they aren't Christian. While the commercial aspects of the holiday lack the foundation and connection to Jesus that Christians have, it does give a chance for people to connect with each other. He said the joy at this time of the year is just increased for Christians because they get to celebrate both sides of the holiday.