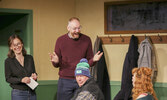 'Chronicles of Sarnia' delivers laughs, heart for Blyth Festival
BY SHAWN LOUGHLIN
The success of Sophia Fabiilli's Liars at a Funeral and now Matt Murray's The Chronicles of Sarnia feels like an appropriate counterweight to what's going on with The Donnellys: A Trilogy over on the Blyth Festival's Harvest Stage.

Where the Donnellys shows are heavy, often dark and unbearably tragic (as J.D. Smith's character says at the very beginning of Handcuffs, which also opened last weekend, audience members paid and came to the theatre to see the Donnellys die), the other two shows have been light, easy watches that bring with them more than their fair share of laughs.

Of course, with each of the comedies comes heart and time to stop and think about personal connections, family and the ones you love, but sometimes it's just nice to have a laugh at the theatre.

The Chronicles of Sarnia is a tight story, told over the course of one cursed night, depending on who you ask.

Erin, played by Severn Thompson, a long-time history teacher who's truly passionate about what came before her, spearheads a meeting to create a new time capsule but, despite her best intentions, she fails to attract the attention and participation in her project she hoped that she would.

Her husband is there, of course, though he'd much rather be at home watching hockey than missing the action. (Or is he? As someone who pulled the same stunt with World Series baseball and a high school girlfriend who wanted to go to the movies, I applaud both the audacity and the courage of Rick, played by Murray Furrow.)

Erin's two honest-to-goodness guests are Marcus, played by Mark Crawford, and Clair, played by Amy Keating. Marcus is looking to reconnect with his hometown after years spent living in Toronto and Clair is on a quest to right herself with the law by way of community service hours.

The fifth member of the group is Owen, played by Sam Malkin. He is the caretaker of the church at which the planning meeting is being held. He handles everything in regards to the building, but becomes a bit more involved in the time capsule-ness of it all when the snow really starts to fall and all five find themselves unable to leave the church at the end of the meeting.
Murray sought to write a love letter to his beloved hometown, while, at the same time, re-evaluate what really creates history; what makes stories worth telling and worth reading.

Erin is clearly a perfectionist and someone who tries very hard to accomplish what she wants to accomplish. So, when she's faced with this motley crew of misfits to make her passion project a reality, to say she's a bit disappointed is truly an understatement.

However, as Erin takes steps to loosen up (to varying degrees of success) and the rest of the group begins to succumb to her infectious enthusiasm, everyone in the church hall begins to slowly tip-toe towards the ever-elusive and much-sought-after patch of common ground.

Thompson is the perfect actor to lead this project. She can wind up and be as tense and fastidious as Erin needs to be in one moment and then connect emotionally with another member of the cast in another.

And, while Erin serves as the story's anchor, the rest of the cast is great. Everyone is perfect in the roles they're asked to play and each has their turn to be hilariously funny in one moment and unbelievably touching in the next. They all connect with one another over the course of the night and divulge information about their lives that they wouldn't otherwise be comfortable sharing, but they form a bond in that church through shared experiences, trauma and laughs that seems to make them better, more understanding people by the end of the show.

Furrow is both caring and funny in his turn as Rick as he tries to support Erin while navigating his own challenging circumstances (not all of which are hockey game-related).

Crawford's comic instinct - which should come as no surprise to Blyth Festival audience members - is tremendous. He brings the others into his life, which has taken some less-than-ideal twists and turns along the way, but he rediscovers some things about himself along the way.

Keating is the funniest of the bunch - both thanks to her performance and to the writing of the character - so it's easy to write her off as burn-out comic relief. However, audience members and her fellow time capsule mates both learn alongside one another that there is much more to Clair than meets the eye/probation order.

Malkin's Owen is both heartbreaking and wise. As the oldest of the group, and with history taking centre stage, it's hard not to listen intently when he talks. They could all learn something from him, and they likely do.

Director Miles Potter is very familiar with both comedy and many of his actors and it shows as the show is loose, free-flowing and simple (in a good way). He knows how to hit all the notes and put his actors in the right place at the time to connect with the audience.

The show begins with some edgy humour and strong language that may take some audience members off guard, and then journeys towards some real emotional gut-punches as it works its way towards its end. It truly gives the audiences the best of both worlds and shows the skill and versatility of everyone from Murray to Potter to the cast.

Again, in contrast to the heavy, complicated and often tragic saga of the Donnelly family, The Chronicles of Sarnia - which even plays during the daytime hours of August - feels like a sunny, tightly-packaged alternative that is right at home on the Memorial Hall stage.