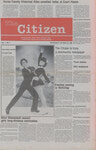 Citizen at 35: Roulstons, Richards lean on community for 'Citizen'
BY KEITH ROULSTON
By the summer of 1985, when I got a phone call from Sheila Richards, Brussels and Blyth had been without their own newspapers for more than three years.
Brussels wasn't the same place without a local newspaper, Sheila said, and asked what we could do to bring local news-gathering back to the area. As we talked, a plan emerged that was influenced by both of my areas of influence.
After graduating in journalism from Ryerson University, my wife Jill and I had arrived in Blyth in 1970 and purchased The Blyth Standard from Doug and Lorna Whitmore. In Blyth, the discovery of Blyth Memorial Hall and coincidental contacts with Paul Thompson and through him, James Roy, led to the founding of the Blyth Festival in 1975. It was the Festival that first brought Sheila and me together when she joined the board of directors after she and her husband Wendell moved to Brussels to take up farming. She became the Festival's second president when I stepped down as its first.
My fascination with theatre and our growing family led Jill and me to sell The Standard, and sister publications The Rural Voice and The Village Squire to A.Y. Maclean, who owned The Huron Expositor in Seaforth. He had earlier bought The Brussels Post from Roy and Evelyn Kennedy. The five publications continued until 1982 when it became clear that none of his children were prepared to take over the company and he sold The Expositor, Post and Standard to Signal-Star Publishing of Goderich, which only wanted The Expositor and shut down The Post, amalgamating it with The Expositor and The Standard, making part of The Clinton News-Record.
I mentioned to Sheila that from what I'd seen with the Festival, first as president and I then as the Festival's first year-round general manager, people seemed to be more supportive when something was a community project, rather than having one person who reaped the benefits if it was successful or lost if it failed. We began to explore the idea of a newspaper that would be owned by shareholders in the community.
The other founding principle was that rather than have two newspapers, one for each community, or a newspaper that was based in one of the two villages but served both, the new newspaper should clearly belong to both communities, combining readership from both to provide a larger potential market for advertisers.
From that starting place, we began to explore if the idea was feasible. Our accountant (Karl Lentz) and lawyer (George Brophy) agreed that such a model was possible and began looking into how to accomplish it.
The next task was to see if we could sell the shares needed to finance the start-up and keep it running until it began to generate revenue. Sheila tackled the Brussels community. She asked me how many shareholders she should aim for and I made the mistake of saying the more shareholders we had, the more people who would feel the newspaper belonged to them. Sheila then sold one share each to dozens of shareholders – a $100 investment.
Meanwhile, I tackled Blyth. With so many tasks to be accomplished, I set up meetings with prominent community members, seeking larger investments. Looking back, I'm amazed at the support we received – so many people were ready to take a chance that we could pull this off.
When it became obvious that we'd be able to raise the needed money to make the project work, the next challenge was to build a team to make the paper successful. This first key staffer was easy to find – I met her across the kitchen table every morning. Jill wasn't thrilled, at first, to be getting back into the newspaper business, looking instead for new adventures, but she knew the business from back in her days at The Standard. She could run all the equipment we'd use and knew what had to be done in organizing subscriber mailing lists and invoicing advertisers. She became the heart and soul of the company, right up until her retirement in 2017.
One of the lessons I'd learned from bitter experience in past publishing ventures was that you're only as successful as the person selling your advertising. We started off on the road to success because we were able to convince Beverley Brown to join the team.
I'd first met Bev when she and her partner were involved with the Huron County Federation of Agriculture. When Andy Maclean bought The Rural Voice, he brought Bev and Sheila Gunby onto an advisory board. They became more and more involved in the production of the magazine and when Signal-Star Publishing wasn't interested in buying The Rural Voice, he sold it to Bev and Sheila. In 1985, Bev was involved in producing the Huron County Historical Atlas, which was nearing completion. Jill had worked with her for several months on the mammoth project. We set out to convince Bev that her next project should be The Citizen and, happily, she agreed.
When word spread around Blyth that I was raising money for a new newspaper, I received a note from Dianne Josling saying she'd like to work for us again. It was quite a compliment. Dianne had begun work as a typesetter straight out of high school and quickly became a valued employee. I remember her being fascinated with "Myrtle", our first computerized typesetter. We quickly jumped at the opportunity to add her to the founding staff and she's still the heart and soul of The Citizen, having adapted to many different technologies over 35 years.
Things were moving right along. We had an office on Blyth's main street where we had traded a year's worth of rent for shares in the company. This is where the actual production of the paper would take place. We rented a smaller office in Brussels that would be the advertising headquarters with Bev Brown holding down the fort. I found out about a man over north of Toronto who reconditioned and sold used computerized typesetting equipment and made a trip there to buy enough equipment for us to get started.
We set a target of producing the first edition of The Citizen on Wednesday, Oct. 23, 1985. We booked an early afternoon printing time. To encourage advertisers, we offered a two-for-one sale – buy a half-page ad and get a full page. A big mistake!
We forgot what a salesperson we had in Bev. She swamped us with ads. Rusty as we were from years away from the business, it took us longer to get things done than we expected. So many ads pushed the issue to 32 pages, meaning more news to be found, written and typeset and more photos to be processed.
Printing time came and went. The printing plant called. We apologized and asked for two more hours. Two hours later, after missing another deadline, and another call, a new deadline was set. And so it went. The paste-ups were finally rushed out the door at about 7 p.m.
I had been hopelessly naïve and scheduled the first meeting of the shareholders for that evening in our Blyth office. I figured the paper would have been printed and mailed by then. We'd give people a tour of how a newspaper was put together, hold the business meeting, then give each shareholder their first copy of The Citizen to take home. Instead, the paste-ups were leaving just as the first shareholders were arriving. Luckily, the printed papers were delivered before the shareholders left a couple of hours later, and they got to take a first edition with them. Meanwhile, we still had to count out enough newspapers for each post office (we were distributing free to introduce the paper to potential subscribers) and deliver them to the various post offices so people would get them the next morning.
It quickly became obvious we needed more help. Fortunately, when word got around that we were starting a newspaper, we received a visit from neighbour Steve Caldwell who introduced his new wife, Joan, and wondered if we needed any help. We did now, and Joan joined the staff. She's still here 35 years later, an invaluable member of the team. Her reward also included meeting her best friend, Dianne.
The Citizen was off to a good start, but there was one more major stumbling block. A reporter for The Kitchener-Waterloo Record had heard the unusual story of the new newspaper's birth and drove up for an interview. The story was picked up by the Canadian Press news service, and from there by the Associated Press in the U.S. We had calls of interest from as far away as Arizona.
None of this would have mattered but among the papers that reprinted the story were The Toronto Star and The Globe and Mail. This brought our project to the attention of the regulators at the Ontario Securities Commission (OSC). In early December I received a chilling phone call from someone at the OSC saying what we were doing was illegal and they could freeze our bank accounts. It turns out that if you had more than 50 shareholders you have to prepare a prospectus, but preparing an acceptable prospectus costs more than all the money we were trying to raise to start the newspaper.
Our lawyer took over and eventually negotiated an agreement OSC could live with – but we had to give money back to enough shareholders to get us below the 50-shareholder limit. As a veteran fundraiser, I think it broke Sheila's heart to give money back.
Sheila remained a member of the board of directors until her death. Bev Brown left The Citizen after a couple of years for new challenges. Jill and I retired in 2017.
It was a big step when we could afford to hire our first reporter. Acting as publisher and editor as well as covering events in both communities was an overwhelming task. One of the first of these reporters was Toby Rainey. She only stayed for a couple of years, but her influence was lasting. Toby was a fabulous photographer who helped establish The Citizen's reputation for photography and always challenged me to raise the bar with my own photos. She also, from the time of her letter of application, spoke about how The Citizen could be the best newspaper in the county, and inspired me to think bigger than just a Blyth and Brussels community newspaper.
Also beginning as an assistant was Bonnie Gropp, but she quickly demonstrated she could be more. In 1991 the company acquired The Rural Voice, an important landmark because it gave us two strong publications. When the magazine's editor quit, I switched over to become editor of The Rural Voice and Bonnie became editor of The Citizen, a post she held for years. It was she who hired Shawn Loughlin as her assistant and he grew to become editor himself when she left. Soon after, Denny Scott became Shawn's assistant and the same strong editorial team has been in place for years now.
The most recent change has been one of the most important. By 2016 I was past the normal retirement age. I'd already explored finding a successor a number of times with no success. Late that year I found out that Deb Sholdice was available. With hardly any newspaper experience she might seem like a strange choice but I'd seen her become a first-rate general manager at the Blyth Festival when she started out with little background in theatre and knew she was creative, adaptable and passionate about anything she takes on. She also had one strength none of the previous candidates possessed – she knew, and was committed to, the community because she'd grown up here.
We offered her the job of publisher-in-training, and waited breathlessly while she made up her mind. Fortunately, she said "yes". With newspapers already being challenged by changing attitudes and habits in the digital world, then being further clobbered by the COVID-19 pandemic, it's hard to imagine how The Citizen could survive without an inventive, tireless leader like Deb.