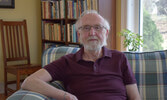 'Citizen' founder Keith Roulston inducted into OCNA Hall of Fame
BY SCOTT STEPHENSON
It's a great week for good news about good news - Blyth-area Renaissance man and founder of The Citizen Keith Roulston has been inducted into the Ontario Community Newspapers Association's (OCNA) Hall of Fame. The OCNA Hall of Fame is intended to recognize and celebrate community members who've had a significant impact on Ontario's local newspapers.

Lucknow-native Roulston is in good company - this year's fellow inductees include publishers Michael Atkins (Laurentian Publishing) and Abbas Homayed (Sudbury Northern Life), retired Metroland Media Group president Murray Skinner, and columnist and editor Jim Thomas of The Stouffville Sun Tribune.

But who is newspaper crackerjack Keith Roulston, and why is he being honoured? The Citizen sat down with its mostly-retired founder at his charming split-level rural home to learn a bit more about the journey that has brought him to where he is today.

A far cry from the popular image of the newspaper man as a Hearstian fact-manufacturer, Roulston has always believed in thinking small. His favourite kind of story? "People's stories… interesting stories about what people are doing locally." If you live in Huron County, Roulston has covered your fish fry, your barn fire, your local political races. He has not only been a compassionate local reporter and editor in Huron County for over 40 years, but he has also been an active participant in the community his papers have served.

While Roulston's community involvement has been the subject of many articles over the years, he never set out to make the news, just to tell it. And news wasn't actually his first choice.

"I didn't even plan on going into journalism, I wanted to be a fighter pilot for the Royal Canadian Air Force (RCAF) originally," he reminisced, "but when I got to the 13th grade, I didn't have the right subjects to do that." Roulston attended the now-closed Lucknow District High School, which did not offer the physics class required to join the RCAF - interested students would have to travel to Wingham if they wanted to learn about the properties of matter and energy. "I didn't want to do that, so I had to decide what else to do… my mother eventually said 'you're interested in writing, so why don't you go to Ryerson?'"

Go to Ryerson he did, in 1965, at the height of the swinging Yonge Street scene - an era when virtually unknown Joni Mitchells and Neil Youngs roamed the earth. Not content just to study journalism, Roulston became assistant editor and then editor of The Ryersonian, the school's newspaper.

Having been bitten by the newsie bug in the big city, Roulston returned to his hometown to spread his enthusiasm. He got right to work creating a paper of his very own - a sport-centric publication known as Western Ontario Sports. How was his first foray into the wild world of sport publication? "That was a disaster," laughed Roulston. I had all the journalism training and absolutely no clue what it took to pay the bills." He quickly learned about the difference between working at a paper and starting one. "At The Ryersonian, we had always just put out a newspaper and the advertising was just magically there… all of a sudden we had to go out and find advertising to support the newspaper. I was in charge of that as well as the editorial side of things - when it came to the advertising side, I was terrible!"

After the learning experience of that ill-fated publication, he worked his way through the area's then-vibrant local news scene. In those days, the local weekly was the place to check out movie times at Wingham's Lyceum Theatre, or learn about the $2.50 smorgasbord at Trinity Church. Roulston started out with a brief stint as editor of The Clinton News Record in 1970. "I was there for a year and a half or so when I heard the newspaper in Blyth was going to be sold."

Most of the papers back then were owned by people who also owned printing plants using letterpress technology, but a tectonic shift in the industry was looming - the advent of offset printing. Not since the move from the Scriptorium to the Gutenberg printing press had there been such a huge increase in potential quantity at a considerably decreased cost. Printing plates became a quick and easy way to produce print media with high-quality images.

A side effect of this streamlining - many smaller papers began to go up for sale. "All of the printing was now being done in one place, and the newspaper part of it was being sold… so I bought the old Blyth Standard from Doug Whitmore, whose father, Ken Sr., started Blyth Printing in 1938, and whose son, Ken, is the current owner."

Shortly after starting out in Blyth, Roulston stumbled upon another passion while out looking for impressive things to photograph for the paper. A local club was putting on a variety show at the Blyth Memorial Hall, a stately old building on Queen Street. The space was in a state of disrepair, but its historical value was evident, from the cornerstone to the rafters. Roulston felt the hall also had a future waiting to happen.

This first encounter with Memorial Hall led Roulston to a years-long odyssey to restore the forgotten local beauty to its former glory. He found allies all over Blyth, from Blyth Board of Trade head Helen Gowling to the Lions Club, leading all the way to the Blyth Village Council. There were fire escapes to install, painting to do, an electrical system that needed rewiring, and $50,000 in roof repairs. A galvanized community worked hard for years, eventually leading to the fully restored crown jewel of the Blyth Theatre Festival, of which Roulston is a co-founder and first general manager. He has also written plays for the festival.
While working to establish the festival and theatre, Roulston was still actively working in local news, founding The Rural Voice and running The Village Squire. He sold off these publications in 1979 to focus solely on the theatre, but found himself unable to stay out of the paper game, founding The Citizen in 1985 when further newspaper closures led to a lack of coverage of both Blyth and Brussels.

Despite the lucrative nature of community theatre, Roulston did not have the funds to start another paper. The limitations of this situation led him to get creative, and he came up with a plan to get public funding, selling $100 shares in the paper to the residents of Blyth and Brussels, a venture that was so successful that it received international news coverage, which led to the Ontario Securities Commission's discovery that The Citizen had more shareholders than the legal limit. The result was a reduction in the number of shareholders to 50, and the resulting paper, The Citizen, is still community-owned to this day, and continues to employ a dedicated team focused on telling local stories that matter to residents.

These days, Roulston's mind has been occupied with how much things have changed, but he's also always had an eye for the things that stay the same. The 1974 line from The Blyth Standard, "A typical Canadian day: one guy was saying the government was spending too much and another was demanding yet another service" could have been written at any time in our nation's history. Whether it be a 15-cent copy of The Clinton News Record from 1970 or a copy of The Citizen purchased for $1.50 today - they both contain editorials by Roulston addressing consumers' growing unease with rising costs. How has he been spending his well-earned retirement? Writing for The Citizen, of course.

These days, the "local newspaper" has become something of an endangered animal. The modern media world is a place where it is common for giant conglomerates to buy up small-town papers, gaining influence and homogenizing news. Online publications spew divisive rhetoric that has put entire societies at odds, and the independent local paper's habitat is being threatened. Not since the conversion from letterpress to offset printing has there been such a momentous shift in print media.

That's what makes Keith Roulston such a remarkable anomaly in the world of print media. All of his papers, whether The Blyth Standard, The Citizen, or The Rural Voice, have offered the same thing to the citizens of Ontario's West Coast - the feeling that their triumphs are worth celebrating, their burdens can be shared, and that their causes are worthy. It is the chance for our citizens to be seen.