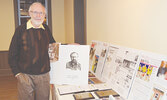 'Citizen' founder shares stroke journey for Heart and Stroke Month
BY KEITH ROULSTON
Stroke became a first-hand experience for me back in November, 2021 when I suffered my own attack of the disease.

I had no clue that I had a stroke the first time I used the stairs that morning but I knew something was wrong. Taking a single step without stumbling became difficult. However, things weren't totally bad by the time I had breakfast. I still had blurred vision, though, so I mentioned it to Jill, my wife. She had just recently looked at a magnetic sticker on our fridge that outlined the symptoms of stroke and it seemed familiar.

Because there seemed to be time to deal with the symptoms, Jill went to use the bathroom before proceeding. While she was away, however, I collapsed on the kitchen floor. That spurred her quick action.

My doctor has been in Seaforth since Dr. Dan Rooyakkers had set up an office next door to The Citizen office on main street in Blyth years and years ago. That office had closed long since, but we'd continued to use him, and when he retired my file was turned over to Dr. Adam Gavsie, although I had never met him. Jill called the office in Seaforth and staff advised her to get me to the Seaforth Hospital emergency room as soon as possible.

Jill must have had a terrible drive with me gurgling beside her for a half-hour. When we arrived, I was treated immediately, but she was told she actually should have called an ambulance and they would have taken me to Goderich, which was closer to our home and where staff had more experience handling strokes.

After immediate treatment, the Seaforth medical staff put me in an ambulance headed for Stratford General Hospital. I can remember the ambulance's siren as it made the half-hour trip to Stratford but little else.

Left behind, Jill called our daughter Jennifer, who works in Listowel, who drove to Seaforth as quickly as possible and then they travelled together to Stratford.

I was being treated by specialized staff by the time Jill arrived. I have a fuzzy memory of the people and their treatment.
It must have been some time before Jill arrived (because of COVID-19 protocols, poor Jennifer was left in the car). I heard, and can recall, only a little of the treatment they gave me. Eventually I was stabilized and moved to a semi-private room where I rested and recovered. Jill and Jennifer eventually went home.

As the day wore on, my situation stabilized. By the evening I was feeling somewhat normal. I had a constant stream of doctors, dieticians and other professionals visit me that evening and in the days ahead.

My roommate was much younger – I would guess in his 40s – but it didn't take very long before I realized he was in worse shape than I was, despite the fact that he had an up-to-date phone and knew how to use it. I was privy to his various calls for two days before he was transferred to Parkwood Hospital in London. He was replaced by a much older man who had just come out of Parkwood.

I was encouraged to get up and walk the halls and I did, in between visits by various professionals. Because of COVID I was allowed two visitors, with our daughter Christina, who lived in Stratford, coming, as well as Jill.

By the fifth day, medical staff was encouraged enough to call Jill to tell her I would be discharged. I arrived home and had a more peaceful routine in which to recover.

Several days later I had my first visit from a member of the Community Stroke Rehabilitation Team, the rehabilitation therapist, who generally surveyed the state of my condition. In the coming weeks I would also be visited by the team's registered nurse, occupational therapist and physiotherapist – up to three or four visits a week – but the rehabilitation therapist came most often. I was given information and an exercise program to get me back in shape. I need to thank them all for their careful care.
The team wrapped up its calls a couple of weeks ago and turned in their reports to my family doctor.

My family doctor, you see, has an important function, even though he has never met me yet. My driver's licence was immediately suspended when I went to hospital and I must have approval to get it back. I think the reports from the Rehabilitation Team have been generally positive, but I have no idea what my family doctor will feel. The easiest thing for him to do is put me in the stream of people who have to take a lengthy examination and a driving test in the city. By the time you're reading this I will likely know which way he'll go.

I thought I was looking after my health, but apparently I was missing something. Advice given to me included my diet. Although I thought I was eating somewhat healthily, for instance, I realized that I was not drinking as much liquid as I should be.
I believed I was eating well, but there were some changes made in our family's diet. I'm fine with the recommendation from the Heart & Stroke Foundation that says you should eat whole and minimally-processed foods. I had a bit more problem with a recommendation that half my plate should be covered with vegetables and fruit at every meal – with these served plain with no salt, sugar or sauce added.

As a meat eater – not large, but still regular – the suggestion that I choose more vegetarian options was difficult. Luckily we already include many beans, lentils and nuts in our diet (though not the tofu they propose). We also already use low-fat dairy, so that wasn't particularly a difficult choice. I don't have snacks anymore so the proposal to choose hummus and baby carrots, apple wedges and lower fat cheese or plain yogurt with berries didn't have much effect on me either.

There were lots of other recommendations, such as eating in restaurants less often, but COVID-19 already simplified that!
In the long run, I wouldn't have thought I was a candidate for a stroke, not being particularly overweight, never smoking and being relatively active, but my experience shows you can never be too careful.

My advice is to do whatever you can to protect yourself. The alternative is no fun.