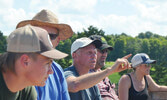 'Citizen' highlights Brian McGavin for 4-H Show Your 4-H Colours Day
BY SHAWN LOUGHLIN
Nov. 2 was 4-H Canada's Show Your 4-H Colours Day and, as is tradition, The Citizen wanted to mark the occasion by taking a closer look at one of the community's long-time 4-H volunteers.

Brian McGavin is someone who is well-known to just about everyone in Huron County and by many beyond the county's borders. His life-long involvement in agriculture and competitive plowing has made him someone familiar to many and he remains involved to this day, serving as a leader with the Huron County 4-H Sodbusters Club, of which he was a member when he was of 4-H age.

In fact, he and his father Neil had quite a hand in this year's International Plowing Match, held near Kemptville in eastern Ontario. Brian was on hand to coach Huron County Queen of the Furrow Maranda Klaver on her way to capturing the provincial crown, while also returning to competition himself. He would place fourth in his class, short of the top-two finish that would have sent him to the Canadian match, but still a great showing after taking some time off.

McGavin began his time with local 4-H Clubs at an early age, showing animals like pigs and then plowing with the Huron Sodbusters Club. In those early days, McGavin remembers learning under leaders like Ross Gordon, Paul Bettles, Bill Leeming and Barry Gordon.

That is, of course, in addition to his rich familial history with competitive plowing. McGavin's grandfather, Gordon, was a Canadian plowing champion and one of the most accomplished competitive plowers in the country's history. He would pave the way for generations after him, including the next generation, Brian, and Brian's son Brandon and Jeff's son Jacob, who have both earned titles at the provincial and national levels.

Gordon served as a director with the Ontario Plowmen's Association for a number of years and as its president for four. He was named the champion plowman at the International Plowing Match in 1926 and he managed the Canadian team at the 1958 World Plowing Match in West Germany.

The Ontario Agricultural Hall of Fame, in its write-up on Gordon, said that he was instrumental in the growth and expansion of both the association and the International Plowing Match.

In fact, Gordon founded the first 4-H tractor club ever in Huron County.

Brian still remembers competing in his first local match, which was in Bruce County when he was 12 or 13 years old. Brian's grandfather Gordon would pass away soon after, so he wasn't able to work with him on competitive plowing for as long as he would have liked, but his father Neil stepped in and was coaching him - a relationship in the fields that has lasted for decades.
As soon as Brian aged out of the 4-H Clubs, he became a leader, helping to bring along the next generations of competitive plowers of Huron County, a position he retains to this day as one of the leaders of the Sodbusters Club. He works alongside Don Dodds and Melissa Veldman and others with the local Sodbusters, readying the next generation for the competitive plowing fields.

He says it has been amazing to see the progress of so many young people over that time. Each year, the 4-H Club runs its program over the course of six meetings and he says seeing the members improve even from the first meeting to the sixth, also known as the achievement day meeting, has been fulfilling. Furthermore, seeing the members come back year after year, the improvement can be even more evident.

Brian says the way he has approached coaching and being a 4-H leader over the years is all about positive reinforcement. There will be setbacks and frustration along the way, he said, but the key is to not dwell on it and to help younger club members see them as learning opportunities and a chance to get better, rather than getting down on themselves, which can be so easy to do, especially at that age.

Brian says he essentially applies the age-old Golden Rule to his leadership style, treating people as he would want to be treated.
He says as fulfilling as it's been to watch young 4-H members improve and then impress at local and provincial matches, it's been even more thrilling to see his son excel and earn championships over the course of his long and storied plowing career, both here in Ontario and in Alberta when he lived there.

Another area of focus during work in the Sodbusters Club, Brian says, is to prepare the young people for plowing without a coach. As juniors, they are able to compete with coaches and get advice from their leaders, but when they turn 16, they're on their own in the field. Part of the Sodbusters program is to prepare the members for that day with notes, knowledge and anything else they need to succeed on their own.

As for the state of competitive plowing in Huron County right now, Brian says it's very healthy, but that's not a surprise. Of course he may be biased, he says, but he has always thought that Huron is one of the strongest counties in the province when it comes to competitive plowing and performance at International Plowing Matches, the Canadian match and even the world championships. That all starts with the steady stream of young people in the Sodbusters Club and the strength of the program on an ongoing basis.

To support his thesis that Huron has one of the strongest plowing scenes in the province, and that it all starts with the Sodbusters, Brian says he often encounters surprise from people when he tells them how many members the Huron club will have in any given year. With the strength of its membership, it's no wonder the ranks fill up with Huron County participants year after year.

And now, being home to the Ontario Queen of the Furrow, Maranda Klaver, is the icing on the cake for what is a great time for plowing in Huron, Brian says.

And it's not just the success on the provincial level, he said the quality and quantity of participants in both the Queen of the Furrow and Princess competitions at the Huron County level was certainly encouraging at this year's match in Ashfield-Colborne-Wawanosh.