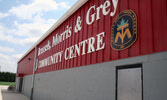 Duquette presents final report on Inspiring our Future campaign
BY SHAWN LOUGHLIN
Nicole Duquette from the Inspiring Our Future capital campaign provided Huron East Council with the campaign's final report on Tuesday night, announcing that its had exceeded its $2 million goal, raising nearly $2.5 million for the renovation and expansion of the Brussels, Morris and Grey Community Centre.

With Duquette were a number of committee members, including Campaign Chair Brian TenPas, Deputy-Chairs John van Vliet and Doug McArter and Campaign Co-ordinator Roxane Nicholson and more. Duquette said that the reported total raised of $2,478,902 had even grown by about $10,000 since the "final" total was reported the previous week and included in a report for council. She said that, while a "giving deadline" had been set for Dec. 14, it's likely that funds will continue to stream in and, unless council wanted to take a hard stance on a deadline, the final total raised will continue to grow.

As part of her report, she reminded council of a number of responsibilities, largely administrative, that will be transferred to the municipality in the coming years, now that the campaign has officially concluded. Issuing tax receipts, sending reminder letters for multi-year pledges and recommendations for donor recognition relations and events, including a small donor appreciation event and open house for the public, were some of them, Duquette said, adding that some of the volunteer committee members had offered to come back and assist the municipality in these efforts, if needed. She said the committee would be passing on all the relevant information to the municipality.

In addition, she reminded council that the money raised by the committee needs to be used for the centre, as it was collected from members of the public, above and beyond tax dollars, under very specific pretenses and people donated because they believe in the future of the community centre.

TenPas also briefly addressed council, saying he was proud to be associated with the project and likened various members of the committee to those on a hockey team. He said Duquette would have been the coach, while Nicholson would have been the captain and van Vliet and McArter would be assistant captains.

Mayor Bernie MacLellan thanked Duquette and the committee for its hard work and dedication to meeting and exceeding the fundraising goal, saying that, if they hadn't stepped up, no one else would have.

CAO REPORT
After Duquette's presentation, Chief Administrative Officer Brad McRoberts presented an update report on the project and fundraising efforts.

"It should be noted that although the fundraising campaign is completed, there are significant administrative commitments being proposed. These include the following: issue letters to those that made multiple-year pledges, reminding them of the donation payment being due; continue to issue tax receipts for donations and subsequent pledge contributions; donor recognition; personal communication to each donor on progress of the project; hosting of a donor appreciation event in early 2023 and hosting of an open house upon project completion," McRoberts said in his report to council. "It is important that the surplus funds raised above and beyond the project and contingency expenses be retained for the purpose of future maintenance or capital needs related to the project, as the donors purposely donated to the project."

He added that there are other costs related to the centre beyond construction costs that will need to be funded by the municipality, such as fixtures, furnishings and equipment (chairs for the lobby, microwaves for the concession stand, signage, etc.) and administrative costs related to hosting events, postage costs and more.

"These additional fundraising dollars will be available for these items as well. Excess dollars could be allocated to future parking lot resurfacing or improvements that were initially removed from the project as a cost-saving effort," he said in his report.

He concluded by saying that the project is progressing, but that staff is concerned that the contingency for the project is being depleted. Staff will continue to monitor expenditures, he said, as the project progresses.

McRoberts presented the report for information purposes and council didn't discuss it any further.