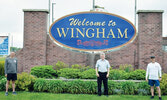 Early morning hours of 100K in a Day the most challenging for Armstrong
BY SHAWN LOUGHLIN
While Patrick Armstrong and Dave Matheson were pleased with the response to their "100K in a Day" fundraiser for the Dave Mounsey Memorial Fund, it was no small physical task.

The two men set out on the trek on May 22-23, the Saturday and Sunday of the Victoria Day long weekend. They began in London on foot, just after noon on Saturday, crossing into Wingham just after 9 a.m. the next day, walking through the night.
In an interview with The Citizen, Armstrong said his motivation to pull the event together came by way of the COVID-19 pandemic and resultant limited fundraising options for many charities, including the Dave Mounsey Memorial Fund.

The Fund holds several events annually, all of which were cancelled in 2020 and now have to be modified to be held in 2021 (the Run Around the Square was held virtually this past weekend, with runners mapping out their own routes).

Not being able to host in-person events, for many charities, means a challenge in raising money. The Fund, however, like many other charities, continued its work throughout 2020, placing defibrillators in public buildings, despite a lack of money coming into the charity.

Armstrong said he felt the 100K in a Day concept could be executed in a safe manner, even during the COVID-19 pandemic, and might be a modest success for the charity, with a fundraising goal of $7,500.

He also felt the distance of just over 100 kilometres was ideal. Over the years, the Fund has honoured 102 fallen police officers, soldiers and other emergency responders with defibrillator placements. Honouring each one of those men and women per kilometre travelled, he said, felt like nice synergy for the event.

Soon after announcing the event, Armstrong and Matheson then began training. They would go on walks and runs on their own, Armstrong said, but also meet for training walks together. He said that, despite being the best of friends, walking through the night for 24 hours with the same person required a trial run or two.

The pair would eventually go on 20- and 30-kilometre training walks as the event approached.

Armstrong said he felt prepared when the weekend arrived - as prepared as you can feel for such a tough physical challenge.
Armstrong said he felt like he was in good shape until he and Matheson hit about the 45th kilometre of the journey. Having covered so much ground and knowing that they weren't even halfway through the challenge yet, with the night and early morning hours still ahead, was challenging.

He said the hours between 1-4 a.m. were likely the most challenging, both mentally and physically. At that point, the pair had been at it for well over 12 hours and exhaustion was starting to creep in.

However, they did have some visitors and well-wishers along the way. Shawn McFalls, a Perth County Ontario Provincial Police officer, made a trip to see them, as did South Huron Mayor George Finch. The politician and retired police officer officially welcomed Armstrong and Matheson to Huron County as they hit the South Huron border.

There were also welcomes from the South Huron Fire Department and the West Perth Fire Department, as well as the Fire Department of North Huron and the Blyth Firefighters' Association once Matheson and Armstrong made it to Blyth very early on Sunday morning.

In Wingham, they were greeted by Lincoln and Laurie Dinning, whose son Matthew, was among the last people honoured along the way. North Huron Reeve Bernie Bailey and a small handful of supporters were also there to greet the men at the finish line.
The event ended up nearly tripling the goal of $7,500, raising approximately $20,000.

The event's GoFundMe page broke $11,000 late last week, along with over $5,000 in private donations (including a $1,000 donation from the Blyth Firefighters' Association). In addition, two companies agreed to donate a defibrillator each, at the cost of about $2,000 each, bringing the grand total to approximately $20,000.

Armstrong said he's glad that he and Matheson took on the challenge, but he wouldn't be eager to do it again. Perhaps there could be another 100K in a Day challenge that's modified to include many more participants, he said, but travelling the entire distance was very challenging.

To date, the Dave Mounsey Memorial Fund has placed over 120 defibrillators around southwestern Ontario. Three lives have been saved by Mounsey defibrillators as a result.

Mounsey, for whom the Fund is named, was an Ontario Provincial Police officer based in Wingham, but who lived in Blyth. He was killed in a single-vehicle accident in 2006 and the Fund was established a few years later.

Before his death, Mounsey had trained to compete in a marathon in hopes of raising enough money to buy a defibrillator for the Blyth Fire Department, of which he was a member. After Mounsey was killed, the Fund was established to continue doing that work, placing life-saving defibrillators in public buildings across southwestern Ontario. To date, defibrillators have been placed in the names of police officers, firefighters, paramedics and soldiers who were killed in the line of duty.

The first-ever donation was made in Mounsey's name at Memorial Hall in Blyth and the second donation was made in the name of Cpl. Matthew Dinning of Wingham at the Wingham Legion. Dinning was killed in Afghanistan, serving as a member of the Canadian military police.

For more information on the Dave Mounsey Memorial Fund, visit davemounsey.com.