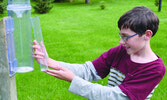 Eighteen-year-old Morrison chosen to represent Brussels
BY SHAWN LOUGHLIN
After being chosen to replace John Lowe last week, 18-year-old Justin Morrison is now one of the youngest municipal councillors in the province, if not the absolute youngest.

Morrison turned 18 late last year, just in time to put his name forward for Lowe's position, which he resigned in 2021, effective at the end of the year. Morrison said that, over the course of 2021, it was as simple as walking around his home village of Brussels that piqued his interest in local affairs and, ultimately, municipal politics.

He would pound the pavement at all times of the day or night and, during that time, he said he would notice little areas of the community that need work and it got him thinking seriously about getting involved. Morrison had already volunteered extensively with the Brussels Leo Club, serving two terms as its president, but he said he began considering stepping up that involvement, especially since he would technically age out of Leo Club eligibility when he turned 18.

So, when Lowe announced that he would be resigning his council seat at the end of the year, just over 10 months before the 2022 municipal election, Morrison said he thought it was a perfect opportunity to learn a bit more about municipal politics without necessarily committing to an election and a four-year term as a councillor.

He did a bit of research and spoke with some friends, family members and neighbours and, by the end of it, they were encouraging him to put his name forward.

Before the special meeting to choose a new councillor, Morrison said he did some research on the kind of questions he could expect. Another local council in neighbouring Bruce County recently went through the process of filling a vacant seat this way, so he watched a video of that meeting as a means of preparing for his meeting.

As for the actual meeting itself, Morrison said that while he might have been a little nervous just before it began, he was relatively calm throughout it and felt at ease when presenting himself and his qualifications to council and answering councillors' questions.

In an interview with The Citizen, Morrison reiterated his position that he felt it was important for a councillor chosen to represent the Brussels Ward to live in Brussels. While he didn't doubt that the other two candidates who put their names forward had the best intentions, he just felt that is the way the community should be represented.

He said he wouldn't consider putting his name forward in the Seaforth Ward, for example, because he doesn't know anything about the community. In Brussels, however, he knows the community and its layout (especially after that year of daily walks around town) and its people. Not only that, but the people of Brussels know him, as a lifelong resident and long-time volunteer, so he felt, if chosen as the next Huron East Councillor, residents wouldn't have any trouble knowing who he is, where to find him and that they would feel comfortable talking to him about issues pertaining to Brussels.

Morrison says he's taking a realistic approach to his council term, saying he won't be able to change the world in just 10 months, some of which may be during a lame duck period ahead of the election, but he hopes to learn and represent the village at the Huron East Council table alongside Councillor Zoellyn Onn.

He says he isn't 100 per cent sure that he will run again later this year, but he hopes the appointment will be a positive experience and, if it is, he could certainly see himself putting his name forward in the next municipal election.

In addition to the condition of some of the infrastructure in Brussels, Morrison said the economic vitality of the downtown core is certainly a concern for him. As he said, however, that would be a big change and a situation that cannot be turned around in 10 months, but it's a process of which he said he'd be proud to be a part.

When asked what he feels he'll bring to the position, Morrison said not only a new perspective as a teenager, but a passion for his community. As someone who's passionate about software design and technology, studying online with Athabasca University, Morrison said he could also bring that knowledge to council when it comes to technology-heavy contracts or improving the municipality's website, another topic he has already researched.

Morrison's first meeting as a Huron East councillor will be on Tuesday, Jan. 18 when the final draft of the 2022 budget will be considered.