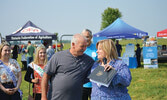 Federal, provincial governments to support agricultural societies
On Saturday as part of the Breakfast on the Farm event held in Huron County by Farm and Food Care Ontario, Huron-Bruce MPP and Minister of Agriculture, Food and Rural Affairs Lisa Thompson announced that the governments of Canada and Ontario are investing up to $1.7 million over three years to launch the "Promoting Agri-Food Careers" initiative.

"I am pleased to see this support for Ontario agricultural societies so they can join focused efforts to increase awareness about the amazing career paths our agriculture and food sectors provide," said Thompson. "Promoting the diversity and scope of careers in the agri-food sector is critical to developing a workforce that is adaptable to facilitate growth and advancement of Ontario's agri-food industry. By partnering with agricultural societies, we will further support the goal outlined in our Grow Ontario Strategy to increase total agri-food sector employment by 10 per cent by 2032."

This two-phased initiative is being funded through the Sustainable Canadian Agricultural Partnership (CAP) and will provide support to agricultural societies as they seek to increase awareness and promote jobs in the agri-food industry and attract the next generation of agri-food leaders.

Sustainable CAP is a five-year, $3.5-billion investment by federal‐provincial and territorial governments between 2023 and 2028 to strengthen competitiveness, innovation and resiliency in the agriculture, agri‐food and agri‐based products sector. This includes $1 billion in federal programs and activities and $2.5 billion in cost-shared programs and activities by federal, provincial, and territorial governments.

The Promoting Agri-Food Careers Initiative aligns with the province's Grow Ontario Strategy, which includes a target of increasing total employment in the agri-food sector by 10 per cent by 2023.

More details on phase one of the initiative will be available soon.

Eligible agricultural societies may apply for funding through the annual return and grant application process beginning in November.

Ontario's 213 agricultural societies are represented by the Ontario Association of Agricultural Societies. Agricultural societies encourage awareness of agriculture and promote improvements in rural quality of life.